NIS America Press Event 2018 Report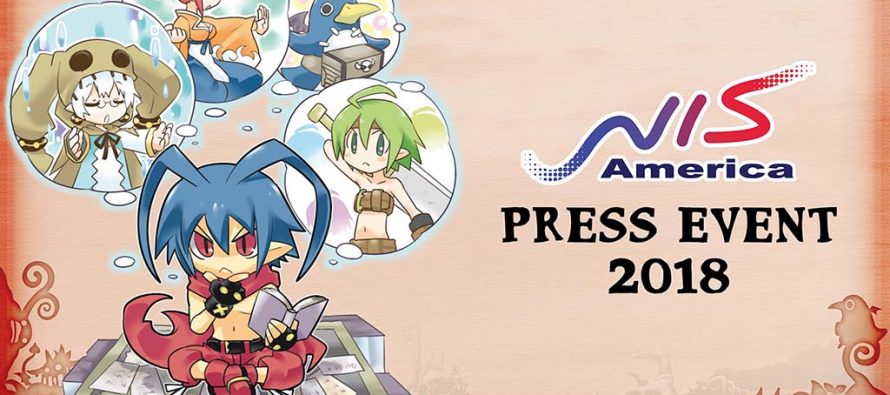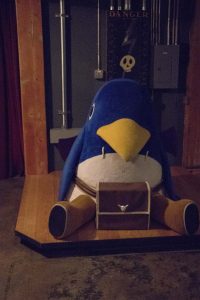 NIS America's 2018 Press Event was full of fun banter, exciting announcements, and plenty of opportunities to play upcoming games. This time around, NIS America primarily focused on showcasing forthcoming games for the Nintendo Switch and the PlayStation 4. This focus suits 2018's current gaming trends with the Switch's momentum in full swing and the PlayStation 4 still going strong. ConFreaks and Geeks thoroughly enjoyed the event, and we are more than excited to present our impressions.
During NIS America's staff presentation, we saw a mix of live discussion, developer videos, and game footage. The presentation showcased twelve titles slated for release throughout 2018. These titles include new properties, a sequel to a Nippon Ichi Software title, and expanded releases for the Nintendo Switch. While the focus was on the PlayStation 4 and Nintendo Switch, we witnessed continued support for the PlayStation Vita and Steam. We also were excited to see a trailer for Assault Spy on Steam Early Access, which is shaping up to be a dynamic third person action game with multiple movement options and over-the-top combat. It's exciting seeing NIS America's interest in Steam Early Access and indie development.
NIS America allowed players to play stylized takes on established genres. These titles were easy to pick up and play, and their visual motifs were memorable and attractive. The Lost Child is a first-person dungeon crawler set in otherworldly take on Japan. It features team-based combat that involves capturing demonic creatures and defeat hulking horrors in a surreal landscape. The characters can deploy traditional support and elemental attack skills, but one interesting ability was sacrificing teammates' turns in order to score more damage. The game's striking designs and contemplative dialogue create an enthralling dungeon crawling experience.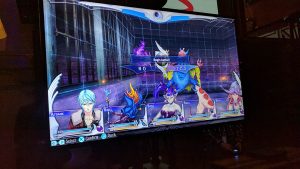 Labyrinth of Refrain also features first-person dungeon crawling, but it revolves around a fantasy world full of danger. The premise involves magic attuned characters sending minions down into the depths below. We thought the dungeons sufficiently conveyed a sense of danger with constant hazards and signs of earlier expeditions. Known for contributing to Disgaea and countless other projects, Takehito Harada once again provides expressive whimsical character designs.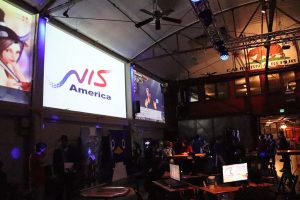 We tried a variety of action-based titles as well as enhanced follow-ups to current games. Penny-Punching Princess and The Witch and the Hundred Knight 2 are full of riveting beat-'em-up style action. Penny-Punching Princess is full of high speed movement and simple brawling mechanics. It was quite amusing whipping out a calculator on the fly to try to bribe enemies, and we feel there are plenty of other laughs to come. The Witch and the Hundred Knight 2 continues the straightforward chain-based combat of the original, but the game has brand new characters, more ornate environments, and a greater sense of intrigue. We also got to try Happy Birthdays and Fallen Legion: Rise to Glory, which are making their debut on the Nintendo Switch. Happy Birthdays' ecosystem management feels like a perfect fit for the Switch, and we appreciate how it includes additional interface elements along with Birthdays the Beginning's content. Fallen Legion: Rise to Glory bundles content from prior iterations of Fallen Legion and it still provides plenty of team-based side-scrolling strategic combat. We believe both games will undoubtedly provide bursts of joy on the Switch's handheld and docked modes. We experienced the text-based adventure sequel The 25th Ward: The Silver Case, which further showcases dynamic displays, relatable characters, and poignant dialogue.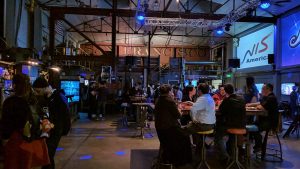 We had a blast trying the upcoming fighting game SNK HEROINES: Tag Team Frenzy, which provides enjoyable over-the-top 2-on-2 tag-team fighting game action. With a simple control scheme and a new resource meter for both health and special moves, the game feels like a unique take on the fighting game genre. Rather than performing traditional directional motions such as quarter circles, players press a direction and a button in order to perform special moves. While this change initially felt slightly strange, it actually works fairly intuitively and we look forward to seeing how other characters will be adapted.
The hybrid health and special move bar also leads to a rather fascinating sense of resource management. As players incur more damage, they can accumulate more special move meter. While both characters on a given team share health, periodically swapping to the other character allows players to access more special move meter. Since each special move expends a bit of meter and players must expend a chunk of meter to deliver a round-ending super, we can imagine many future matches will revolve around careful resource management.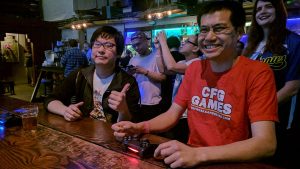 We also got to try the game in cooperative mode, which allows two players to fight together on one team. This mode felt like a fun take on cooperative play as players can tag out and even support their teammate with item use. While we did not extensively test each item, it certainly appears that they can influence the playfield just enough to turn the tides of battle. We experimented with the six available characters in this build, and their movesets felt familiar and incredibly fun to use.
A notable highlight was a series of exhibition matches for SNK HEROINES: Tag Team Frenzy. The game's producer and director engaged in a best-of-five series, and it was entertaining to witness the characters' combos and available tactics at this early stage of the game's development. Even though this build had six available characters, it was actually quite fascinating seeing a variety of costumes and color options, which kept teams fresh and exciting. Audience members had the opportunity to play exhibition matches with the game's director Kaito Soranaka. We were incredibly fortunate to have had an exhibition match with Soranaka-san. While we were bested quite handily, the match was incredibly entertaining and it was an awesome opportunity.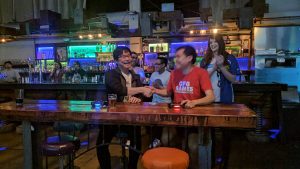 NIS America's 2018 Press Event had plenty of fun announcements, and it was great having the chance to try out forthcoming new titles. While the playable stations emphasized specific platforms and genres, the event still had plenty of diverse content to experience. It truly is fun experiencing NIS America's love for the video gaming medium, and we can't wait to experience what the company has in store for the future.
Many thanks to Michael Koyama for taking photos during the event.
Vincent Lai
I'm a gaming enthusiast who enjoys a variety of platforms! I also love wisps, rainbows, and gardens!
---
---
Related Articles
It's no surprise that Phoenix Comicon 2016 surpassed the 100k attendee count. There's always an event going on for anyone
This October, Marvel will join forces with STOMP Out Bullying™, the leading national bullying and cyberbullying prevention organization for kids and
This November, award-winning writer Greg Pak makes his Dark Horse debut with Kingsway West, his first creator-driven original series!