Written, illustrated, lettered by: Otis Frampton
Published by: Image Comics
Oddly Normal, that unfortunate girl who, having magic in her blood, as well as standard human DNA, is not at all at home in the world she grew up in; the social oddity, with green hair and cursed never to fit in. Following the equally unfortunate disappearance of her parents and home, Oddly was seemingly destined to arrive somewhere where she did fit in: Fignation – a land of magic and monsters, yet the dual heritage of Miss Normal again attracted the same issues that she had been dealing with in the 'normal' human world.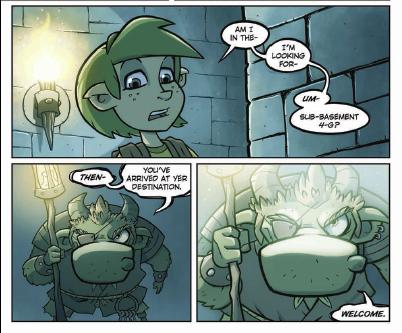 In this issue, events take a further turn for the worst – which is a recurring theme for Oddly. The enmity encountered in the previous issue is added here, and the dungeon scene in the mid section is particularly amusing: Dungeon Master Dave is a delight. The variety of the characters is a positive boon to the story, while there are elements of unfortunate repetition with the dour expressions of the central character, the world of Fignation really comes alive in the presence of the monstrosities that abound the halls of Menagerie Middle School and the surrounding environs.
The art in this issue, which is not the most ground breaking, is quietly effective. Otis seems to relish his monsters, but there are some very nice panels where the structure and colors work very well to convey atmosphere nicely.
Otis maintains his gentle humor in this issue, one particular high point being the representation of a planetary schedule. As with the other installments of this series, there is mild peril to add to the gentle humor. The closing third of the book leads us down a predictable avenue as Oddly is again targeted for being different. The ending is 'oddly' effective, blending tension with some tongue in cheek humor. There are some good elements at play in this book, the range, the humor and some of the art speak well of the creator. It is unfortunate that when the pace drops, so does the entertainment value, the other problem for the book is that each issue feels brief, light, like there should be more to it, but there isn't. The lack of development with the missing parents is also problematic, especially in terms of Oddly: she seems to be quite adjusted to having 'vanished' them with only the merest consideration for their fate. Maybe Oddly is just very good at adapting to changing situations?