Co-creators: John Arcudi & James Harren
Published by: Image Comics
Rumble is an odd story, the very opening tells you this. The first two pages are dis-joined and intentionally different. Arcudi and Harren are trading on the breadcrumb approach: they show you pieces and hint at 'more to come' – and in this first issue they do this as a recurring element. Unfortunately, there isn't enough substance with what follows to engage the reader. On the plus side, when the action kicks off and the pace picks up, the story takes care of itself. That alone isn't enough to win over the reader, the overuse of the aforementioned technique serves to annoy; yes, to mix this method with a few others would be effective, yet alone.
In relation to the art this book is a bit of a mixed bag. Some of the panels come across well, while others show a poor grasp of anatomy and expression.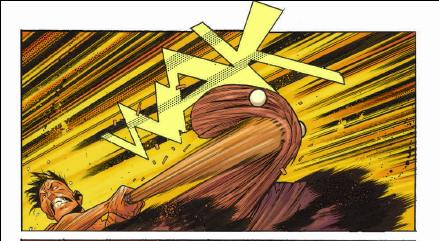 There is a feel of Sam Keith's style in places, a possible homage, but it isn't enough. It is unfortunate that there is such a disparity between the better elements when viewed along with the weaker aspects.
Our central character, Bobby, doesn't engage the audience. At first we meet an overly whiny kid, one lacking any spark. Flip a few pages on and he's launching into the fray wielding a baseball bat against a mysterious assailant who has a monstrous sword. In a scene to challenge the protagonist, this is a little too neat and lacks credibility. Despite his faltering heroism, this doesn't add any likability to Bobby.
There are some positives to be had from this book, the setting is nicely conveyed, the darker aspects of the book come across well and the action, limited as it is, is effectively rendered. However, this book requires some work to bring it up to something beyond mediocre. Given the way Arcudi and Harren close out this issue, there are doubts as to how #2 will fare following on from the 'cliff-hanger' – as it is, Rumble is presently 'just another book', I hope the creative team comes back with a more engaging and entertaining issue 2!