Story by: John Arcudi & James Harren
Art by: Dave Stewart
Published by: Image Comics
Color me stunned, Rumble #3 has just done what the first two issues couldn't: it impressed me! Unlike the previous books, this issue proved to be interesting, engaging, and despite a central character that is still too whiney to like or root for, the story itself has managed to find its' stride. This issue has a lot to offer the reader, a fine narrative, effective characterisation, and a plot that is really paced for the duration. This issue is an 'origin' issue, focussing on the back story of the straw man with the murderous looking sword. There is a mix of brutal battle and mythology intertwined with modern day city life. Much of this issue is told retrospectively, with a few 'present' interludes. Rumble had been one of those books that had a bit of promise yet the delivery wasn't quite firing on all cylinders. Yes, this isn't a genius level book, but in this issue, it is good entertainment value. In Rathraq it seems we have that one element that is vital to sustaining interest: a compelling character.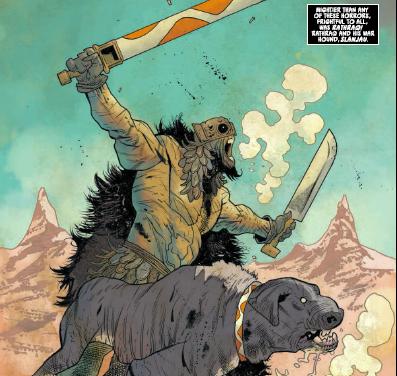 The only real downside in this issue is the whiney Bobby. Many a comic has that luckless loser who eventually turns out to be the hero, though in Bobby, we have too much of the loser and that's unfortunate as it betrays the better aspects of the writing in this story. It is doubly bad as this failing is in the central character, which means we are often reminded of his failings. However, for every weak moment, and there are thankfully few this time around, we have the dynamic Rathraq to get things back on track.
Some of the visuals in Rumble have not been to the benefit of the story, but in #3 we reach a kind of watershed in terms of the sequentials. The layouts could be a little tighter, that's still a concern. But where the art gets it right is in the more lively scenes. The style is simple, effective, and thrives around Rathraq and the various opponents he encounters. Rumble #3 is the perfect jumping on point for this book – if you missed the first two issues, don't fret, this one will do the job perfectly.