Silent Hill Downpour: Anne's Story #1
Written by: Tom Waltz
Art by: Tristan Jones
Colors: Mike Spicer
Published by: IDW Publishing
Based upon the 2012 game: Silent Hill Downpour, IDW bring us Anne's Story #1 – a suitably dark, twisted tale following a prison bus crash that kicks off this story. On first inspection, the look and feel of the book is spot on; the art and horror are very well realized. The use of light and dark is perfect, as are the grotesque elements of the characters and monsters. IDW have done a quality job on this book in terms of the look and feel and that is thanks to each member of the creative team really working in perfect unison from the pencils all the way through the colors of Mike Spicer.
Anne's story is one of darkness, of a shared and tragic history with the prisoner Murphy Pendleton. We begin the issue with Anne in a perilous situation, hanging on for dear life. From that moment on Silent Hill has both Anne and the reader.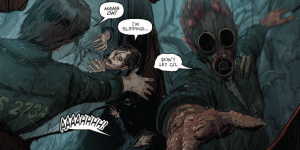 Tom Waltz lays out a tale of darkness and horror, the back story to Anne is developed well and the plot is paced expertly to draw us through the pages to the culmination of the book. Tom hooks us early in the book, the imminent peril followed by the hallucinatory horror of Silent Hill takes us deep into the story; as he gradually reveals the full extent of Anne's story, not only do we share the terror of Anne's predicament but we're also with a sympathetic view of the events from her past.
Added to Anne's perspective, we're given a subtle introduction to Pendleton. As much as the book focuses on Anne, the key to this story is her target, the man who caused so much pain in her past. This approach works well in the story, the experiences of Anne in the almost-delirious carnage, while her nemesis remains at the periphery.
With the team assembled for Silent Hill Downpour, and based on the evidence of this joyously dark tale so far, issue 2 should be an excellent read. If you like the Silent Hill brand or horror in general then this is the kind of book you should be reading.
Overall Score:
8/10