Silent Hill Downpour: Anne's Story #3
Written by: Tom Waltz
Art by: Tristan Jones
Colours by: Michael Spicer
Published by: IDW Publishing
Anne Cunningham is now in the deep end of things, she's in Silent Hill in her fervent pursuit of the escaped con Pendleton. The burning need for revenge and retribution that she seeks to visit upon her prey. Unfortunately for Anne, the nightmarish environments she finds herself in, seemingly have her in mind. One of the troubling aspects of this story for the reader is that Anne, while reacting to the horrors around her, doesn't appear unduly perturbed. That is quite a concern in terms of the rationale of the character.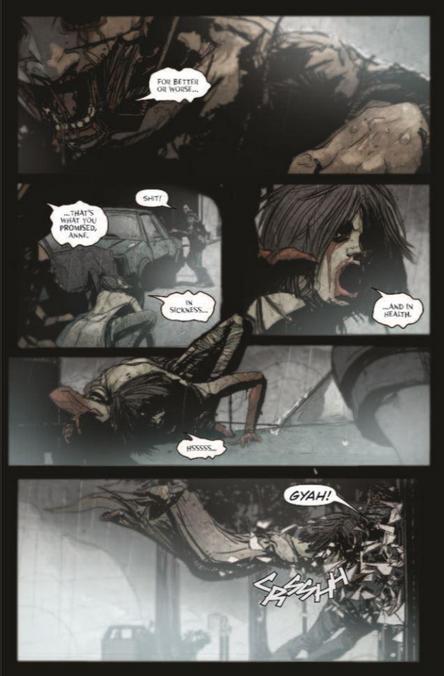 That flaw in the story aside, issue 3 is of this 4 part book, picks up the pace and story flows nicely. We have conflict, combat, and more back story on Cunningham. Add to this, we have the evolving situation and more characters to play with, which adds interest. The back story is dealt with better in this issue than the previous book, it isn't quite as heavy handed. Yes, the melodrama is slapped on, but it is more effective than previously. Likewise, the extra layers of Anne that are displayed add to the character.
Tristan Jones is doing an effective job on the art, teamed with Mike Spicer on colours, there is a good vibe to the pages. Jones really does handle the horror and violence with aplomb, the movement in the panels feels genuine and flows nicely.
The end section of the book is done perfectly. We have an effective end reveal that sets the book up for the final piece of the story. With the relentless pursuit of Pendleton, Anne's insane lust for revenge, and despite the unsavory elements that we've been shown of her past, we do care and are interested in what is to become of Anne. Will she find peace in her vengeance, will Pendleton gain redemption, or is everyone now damned for good? The fate that hangs over Anne and co. is the central question awaiting resolution in the final part of the story. Stay tuned for what will hopefully prove to be a satisfying conclusion to a dark and horrific tale.
Overall Score:

7/10