Skull-Kickers #30
Written by: Jim Zub & Will Hindmarch
Art by: Jeff Cruz & Royce Southerland
Publisher: Image Comics
Let's get ready to RUMBLE!! Issue 30 of Skull-kickers is a mixed offering, yet one that rips straight into the action. This issue is split into 4 distinct stories, each from a different time period and featuring a different artistic

feel in each story.
The action kicks off almost immediately in Shoalin Skill Battle – the first vignette. This is a traditional martial art centered story, where the central protagonists – after some mild jocularity at the start – combine to battle the Inner Demon of Lou-Ku. The humor is tongue in cheek but effective. Jeff Cruz's art is spot on in this first segment, the demon is pretty beast for our "heroes" to battle.
In 'Axeman The Skill Knight',  the time jumps from the feudal era to a crusading, rich Axeman. Jim Zub also writes this story, with Royce Southerland on pencils. The story is laced with Zub's situational humour, which is very effective in the confines of this story. The art isn't as fluid here, particularly in the opening panels. The fluidity improves as the story progresses and some of the expressions do compensate for the early inconsistencies.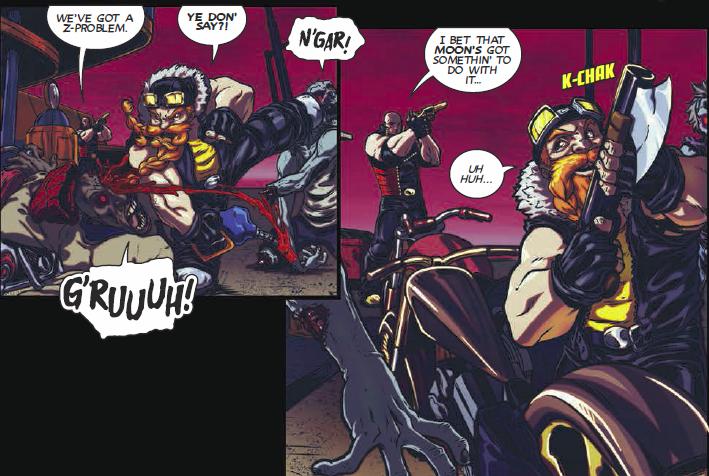 The third story in this offering is by Will Hindmarch and pencils are provided by Jeff Cruz. There is a vintage science fiction feel to the art, which jars the reader compared to the feel of the rest of the book. The story is an effective sci-fi effort but the lack of Zub's humour does detract somewhat.
Finally, we have Fill 'Er Up – a biker versus zombie affair. Zub takes over and teams with Royce on this story. It's a short, fun way to end the book. It isn't as strong as the other Zub stories but the art is the best of Southerland in this issue.
While Jim Zub writes well, and is ably supported by Jeff Cruz, the mixed offerings do leave you with a mashed up feel – a kind of mini-anthology. The characters are fun though, which shines through each story. However, from the strong start to the book, the stories, unfortunately, do not maintain that standard.
Overall Score: 
6/10