The mission of Sliced Quarterly is to do something different, something outside of the usual confines of the sequential storytelling medium. Sliced Quarterly strives to bring you stories to challenge you, to make you think. And this year ending issue definitely lives up to the concept of being experimental.
The array of stories on offer is in keeping with the previous installments, where a diverse collective of creators offer some strikingly different tales. The book opens with a simple but opulently effective story called 'My Cosmic Autumn Rebellion' by Andrew Pawley. My Cosmic Autumn Rebellion is a tale of duality, of the dark mundane existence countered by a joyous turn full of color and expression. Following this is Implosion Flower, by Erik Blagsvedt with art from Gareth A. Hopkins. With Implosion this issue lurches towards the edges of the experimental material on offer, the stark black and white art stands in contrast to the world displayed in My Cosmic Autumn Rebellion. The way the story is told requires some effort in reading, with text curving around shapes, while avoiding typical narration.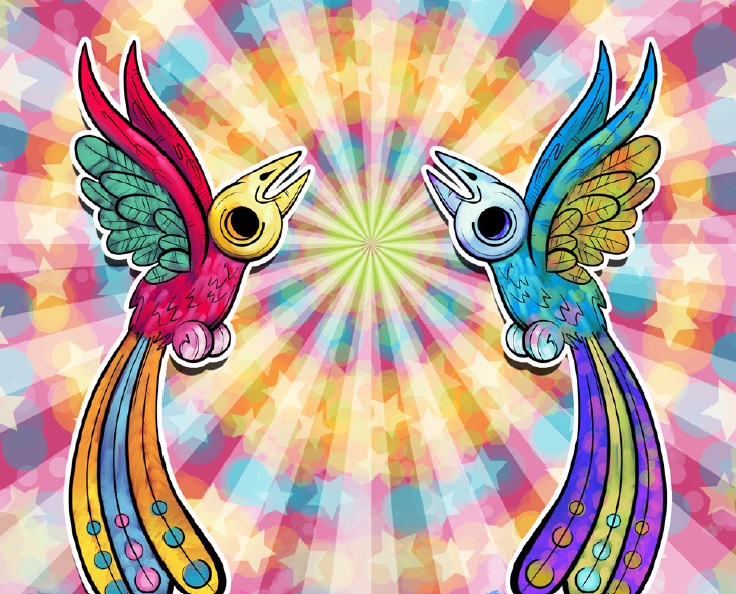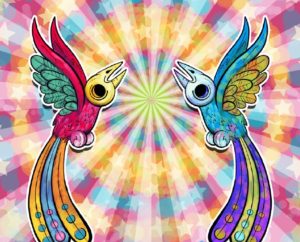 Kathryn Briggs is back in Sliced Quarterly, following her very effective contribution to the previous volume. Again, her work stands out in the human aspect. In 08226 Kathryn delivers a poignant tale of loss with a gently underplayed touch.
Next up we have Medioric, by Cat Byrne – a story of 'enthralling' proportions told in a single page. Don't take our word for it, Cat tells you that herself!
Along with Implosion Flower, the next tale is Sliced Quarterly really pushing the envelope in terms of experimentation. The story is Cliffs of Dover, written by Charles Ripley and the design is by Ken Reynolds (the editor and often letterer of the book) – it's definitely a gamble in terms of the book, the set-up makes for for a difficult experience for the reader. As with all forms of experimentation we learn from our successes and otherwise.
Getting proceedings back to a less extreme sense we have Punishment, from Sergio Santos with art from Tania A. Cardoso. Punishment is a cautionary tale, with a tale like that it isn't exactly a surprise. However, the warning in the story is a commentary on society, and it is delivered in a very stylish manner.
S.J. McClune's story Limits is the penultimate story of this issue, and it is a lovely little slice of art and of the concept of self expression. It's a simple story, with a captivating style, and therein you find the aspect that works best about Sliced Quarterly – stories that give you more than you expect, the pay off is sometimes hard to discern but if you want something to make you think, then pick up this book.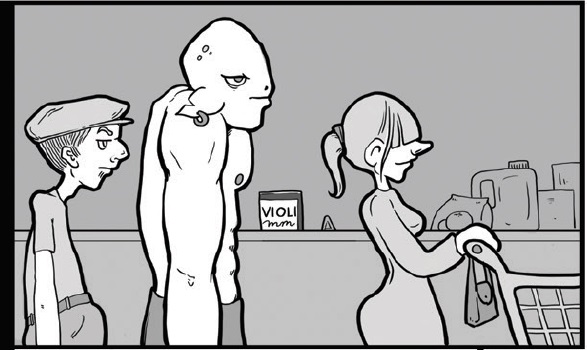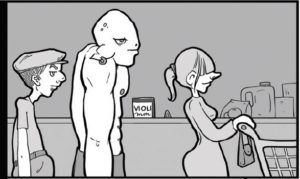 Rounding out the stories we have another element of social commentary – one in which impinges on our human interactions on a daily basis: Self-Checked Out by Tara Lucy. The visuals are quite stark with the black and white delivery. Thought the story is only 2 pages long Tara successfully manages to convey the frustration of technology and how it is helping to increase the barriers between people.
As with previous issues Sliced Quarterly includes a section called Small Press Preview. In this issue we have 'Down in the woods' by Paul Bradford and illustrated by Luciano Fleitas, lettered by HdE. It's a delightfully dark story with a succulent ending. Accompanying this we have 'Contact' by Julio Paz y Vadala, with art by Cesar Eduardo, with colours by Chris Allen. The story is an effective science fiction story, relating to a crashed alien ship. With how the story plays out it could actually be a good fit for appearing as a Sliced Quarterly story.