SNK Heroines: Tag Team Frenzy Review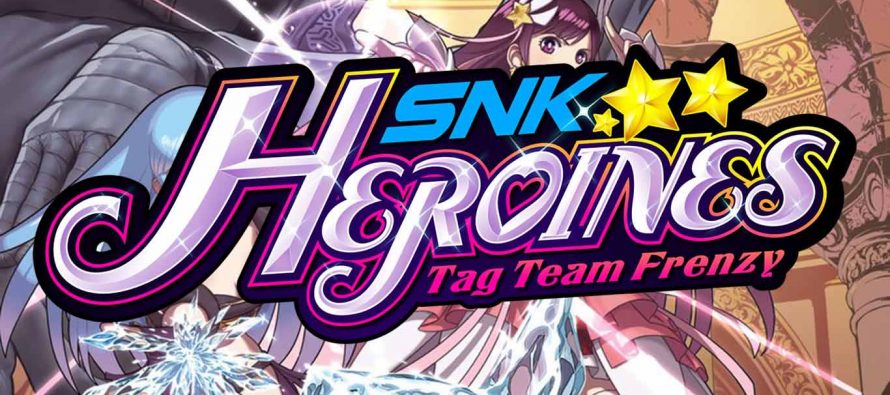 Developed by SNK, Abstraction Games
Published by NIS America
Reviewed on PlayStation 4 (also available on Nintendo Switch)
With plenty of new releases this year, it has never been a better time to experience the fighting game genre. Many developers have strove to widen accessibility while still providing a deep lasting experience. SNK Heroines: Tag Team Frenzy showcases another attempt to simplify controls in a meaningful fun way. Although its mechanics and modes are basic, its unique aesthetics and character customization still create an amusing experience for SNK enthusiasts and fighting game hobbyists alike.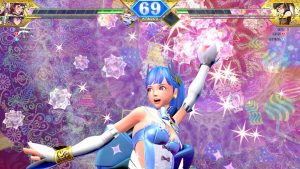 The universe of SNK Heroines: Tag Team Frenzy loosely frames the action in an off-the-wall way. The roster includes renowned SNK characters such as Athena and Leona as well as relative newcomers from King of Fighters XIV such as Sylvie, Zarina, Luong, and Mian. A mysterious King of Fighters character has warped these characters into another dimension. While everyone is initially caught off guard, the player's tag-team soon figures out the culprit and must thwart his oddball scheme in order to escape. While the heroines fight for no apparent reason, the story is amusing enough if a little strange.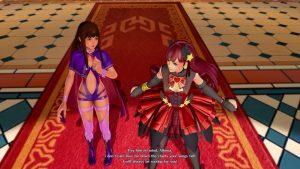 SNK Heroines: Tag Team Frenzy drastically simplifies traditional fighting game controls in order to bolster accessibility. Every action is performed with a single button press. Players have light and heavy attack buttons, and pressing a designated special attack button plus a direction executes different special moves. Similarly, pressing a designated button with or without a down input will trigger different super moves. This simplification eliminates any difficulties related to executing moves and memorizing commands. However, it also eschews some of the nuances of having different special move strengths. One jarring decision is having designated block and throw buttons. Since fighting games traditionally involve holding back to block and pressing an attack button up close to throw, having specialized buttons feels a bit disorienting. Furthermore, players cannot crouch or perform low attacks, which eliminates any need to worry about blocking high or low.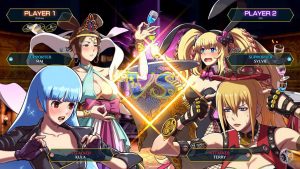 The game's mechanics are interestingly streamlined if a bit straightforward. The sole on-screen meter combines remaining life and special move energy. Using special moves, super moves, and specific maneuvers depletes designated amounts of energy. The catch is that incurring damage actually increases how much energy a player can hold during a match. This can lead to situations in which a losing player has the opportunity to perform more special moves in order to stage a comeback. Yet another quirk is that players must execute a super move in order to actually win the match, which certainly makes players keep an eye on their special gauges. The game's tag-team system further deviates from the norm. Each pair of characters actually shares life, and the reserve character passively builds special meter. Tagging grants more opportunities to use special moves, which encourages regularly swapping characters throughout a match. Since most tag-team games involve pressuring opponents with assists, SNK Heroines' take on tagging is more accessible. At the same time, however, it can feel a bit basic. One quirk is being able to deploy items that attack the opponent or apply effects. These items include springboards, wrecking balls, and even screen distortions, and the zaniness almost creates a party-like atmosphere.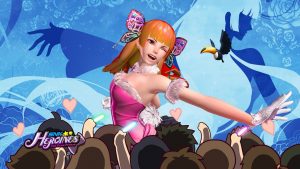 The visual experience is full of eccentric touches that suit the game's off-the-wall nature. Twelve of the fourteen base characters retain their King of Fighters XIV appearances with two new wacky costumes. The game incorporates Shermie from earlier King of Fighters entries and a female Terry Bogard; their 3D models and new costumes fit alongside the rest of the cast. One notable flourish is that each character has unique hit effects that match her history and/or motif. Athena's attacks create stars, Nakoruru's moves have animal-themed effects, and Terry's actually spawn Neo-Geo cabinets. These particle effects add a lot of charm to the game's combat, but sometimes they can actually obscure super moves. SNK Heroines' lighting is more vivid and vibrant relative to King of Fighters XIV's, which is certainly welcome and appropriate. Each of the seven stages consistently follow a castle motif that serve well as fighting backdrops, but they feel a little static and similar.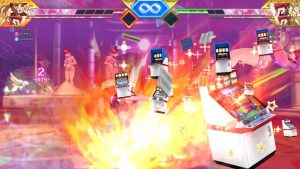 While the game's audio is largely serviceable, it has a few touches that separate the title from the norm. The entirety of Story Mode is full of new Japanese voice content as each character has a few lines that play between stages. Each pair of characters also has unique voiced banter in Story Mode, which is admirable given the sheer number of team combinations. In-game status effects and cutscenes actually use the Dual Shock controller speaker, which is a gimmicky and amusing touch. Many of the user interface and battle tunes are decently composed with all sorts of peppy beats, but they lack a memorable flair. Character customization menus use remixes of the characters' songs from prior games, which provides a nostalgic touch.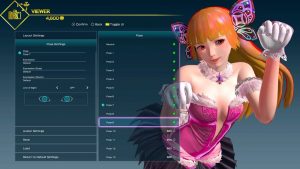 While its modes largely follow well-trodden ground, the game's decently sized pool of unlockables helps provide some replayability. The game provides traditional story, local versus, online battle, training, and survival modes, which mirrors the baseline content of the fighting genre. Another mode might have helped diversify the action and provided additional value. Furthermore, the online netcode feels haphazard. Fortunately, watching cutscenes, winning matches, and beating story mode unlocks voice clips and gallery entries at a rapid pace. Completing matches bestows currency which can be used to buy costumes, accessories, photo backdrops, voice styles, and other decorative items. These decorative items consist of accessories such as animal ears, wings, and tails, but players can also mix and match items from other characters' costumes. Customized characters can then be saved as presets for battle, and they can even be posed and rotated against photo backdrops. In some regards, the game's replayability heavily relies on customizing characters and taking photos using the numerous available options.
SNK Heroines: Tag Team Frenzy is an accessible fighting game that simplifies controls and streamlines resource management. While its mechanics lead to straightforward amusing fights, much of the replayability depends on players' willingness to unlock items, customize characters, experiment with poses, and take photos. With its unique eccentric take on the genre, SNK Heroines: Tag Team Frenzy may bewilder players but will undoubtedly provide some amusement nonetheless.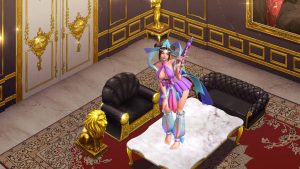 Vincent Lai
I'm a gaming enthusiast who enjoys a variety of platforms! I also love wisps, rainbows, and gardens!
Overview
SNK Heroines: Tag Team Frenzy takes drastic steps to simplify fighting game mechanics, which allows anyone to pick up the game and play. However, its long term appeal may be limited to those who love SNK's history or enjoy character customization.
3.13
3.13 out of 5
Average
---
---
Related Articles
Published by Defiant Development Developed by Defiant Development Reviewed on Switch (also available on PlayStation 4, PC, and Xbox One)
Developed by: Gen Designs and Sony Interactive Entertainment Japan Publisher: Sony Interactive Entertainment Reviewed on: PlayStation 4 The Last
Developed by I-Inferno Published by PM Studio Reviewed on Switch (also available on PlayStation 4, and Vita) The Nintendo