Story and Art by Becky Cloonan
Southern Cross is an intriguing tale of space, murder, and a kick ass (literally) female lead. It's quite refreshing to find a well written female lead – this isn't a new phenomenon, though it is still nice to see. The central character is Alex Braith and she has begun her journey to Titan on a most tragic of starting points: the death of her sister Amber.
What follows the early premise is am anxious story, where Alex is in the midst of an eerie and fraught situation. The aspect of the Southern Cross traversing the vast inky blackness of space, looking like a derelict from the Atlantic during World War 2 – lends a haunting feel to proceedings.
The array of characters, some sympathetic, others, less so – offer a good mix in terms of progressing the story. There is clearly more than meets the eye with the Southern Cross and the shadow of Amber hangs over everything. Not least, Alex.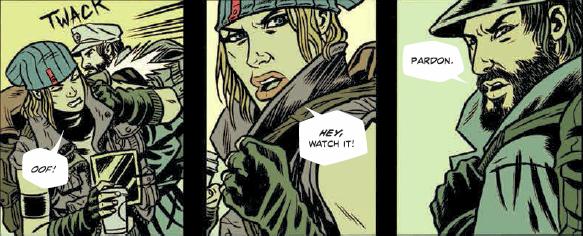 Alex has something of a history too, a violent one of 'assault and battery' – which foreshadows some of the later development of the character. There isn't as much character development of the rest of the players in this issue – that is mainly due to the ensemble aspects of the story. We do get some brief flashes of the captain, the first mate, other passengers, but this book is all about Alex.
As an introduction into the story, this book works well. You get a real feel for the story, of the claustrophobia of the setting, of Alex and the tragic demise of Amber. The art works well, some of the panels are very nicely structured. There is a little weakness in terms of some of the rendering of facial features – things look a little off at times. This isn't massively detrimental to the book but it is something that could be a little tighter going forward. The first issue ,though, has done more than enough to ensure that #2 can't come soon enough. The story is interesting and, other than wanting to find the truth of Amber's death, Alex is a compelling enough character to hold the book together.