Written by: John Wagner
Art by: Carlos Ezquerra
Published by: Rebellion
Prepare yourself, all ye who delve past the cover of this brutally brilliant tale, that you are in for one hell of a read. 'The Life and Death of Johnny Alpha: Dogs of War' is brought to you by the 2000AD legendary team of John Wagner and Carlos Ezquerra and you could not be in safer hands for this story.
The backdrop for this tale is an act of genocide, of a 'final solution' to the mutant problem. Forget the mutants of Marvel, this is a story of a mutant underclass, of evil political machinations at play to eradicate them by an insidious sterilization campaign. Once the scheme is uncovered there is a wholly justified and bloody reaction.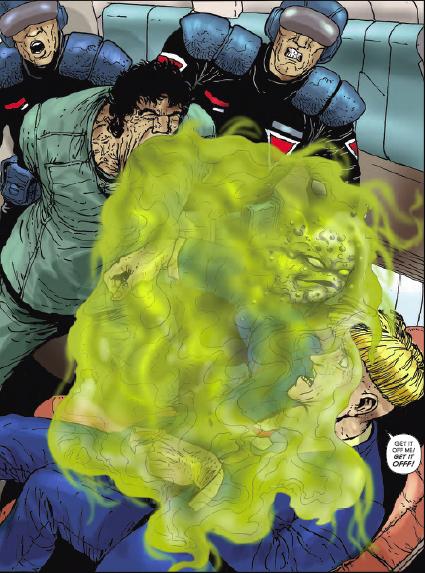 The writing here is stop on, the story sizzles and crackles along. The subject matter is very close to the bone, dealing with social injustice, nationalism, racism and war. The scope is wide open in this, and thankfully it is under the control of John Wagner who delivers a compelling and thoroughly entertaining chronicle of the second Mutant war.
One aspect of this book that should not be underestimated is the social commentary employed by Wagner. This story is extremely relevant to life in Britain today, while such concepts have been explored in sequential stories before, and will be again, having it done in such a manner as this not only tells the fictional story in an entertaining way but provides a stark warning for how society is progressing now; it stands as a warning to those who seek to marginalize and victimize those on the edges of society.
Johnny Alpha and his crew stomp through the pages in vivid life, the sprawling scenes of war torn carnage, of brutal battles and blazing guns are steeped in Ezquerra's luscious style. From start to finish this is a rocking story, featuring the excellent Johnny Alpha in a suitably great tale that forms a fitting backdrop to one of 2000AD's great characters.