Terminus At Fenton's Green
Markosia
Written by Adam Cheal
Art by Russ Leach
Come hither yon traveler and rest your weary limbs, get comfortable and revel in the dark delights of the fabulously constructed Terminus At Fenton's Green.
From the writer of Toxic Storm, Adam Cheal, and with the support of Russ Leach on pencils, Terminus is a period horror with elements of the supernatural and mystery in equal measure.
The narrative sits perfectly from start to finish, which lends the graphic novel an air of gloss to lull the reader in and send them on their way once the story has done with them.
Following on from the excellent 'Toxic Storm vol.1' Adam has come up with a beautiful period piece which teases you with hints here and there, as well as direct revelations on the story. The central character, Theodore Paulsen, is a striking man, complex, dark and fate has a particularly bleak visit set for him in the lovely Fenton's Green – home to monsters, murder and rife with villainy.
Adam plays with the concepts of morality with this story, as he develops his characters in time with the story, the hinted at fate, with hope dashed, provides a counterpoint to the true nature of Theodore and the nature of man.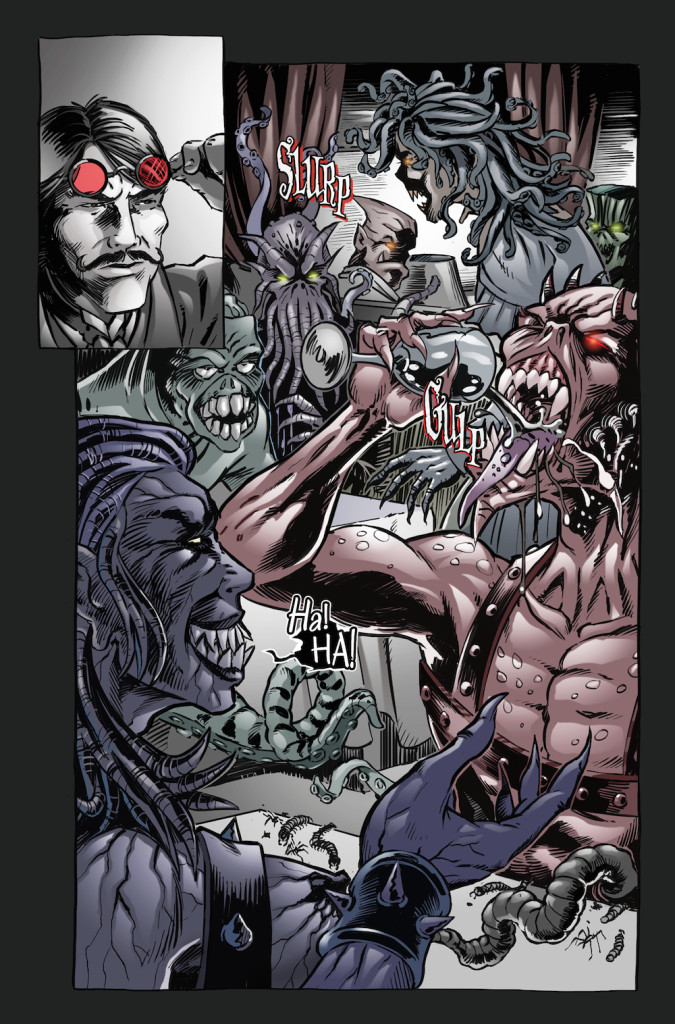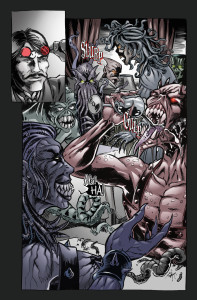 Allied to the crisp dialogue and strong story is the fine art of Russ Leach. This is my first experience of the pencils of Russ and they work beautifully on this book, lending an authentic feel to the proceedings, adding delicious gore and horrific monstrosities galore. Russ provides a fitting backdrop for the characters to grace. The characters are faithfully rendered with a high level of quality. Some of the cut away scenes, dealing with past events, are dealt with in a separate style to the more chronological elements of the book – which works well to ring fence the flashbacks but it also gives a nice break in the flow of the book.
Terminus At Fenton's Green is a very cool story, one that deserves a repeat read immediately. The creative partnership between Adam and Russ works beautifully on this book, an artist seemingly in sync with a writer really finding his stride in the medium of comics. Don't just take my word for it, go out and buy this book. You will not be disappointed!
Overall Score:
8/10