Written by: Erik Burnham, Tom Waltz
Art by: Dan Shoening
Published by: IDW Publishing
This is one of those books that's just fun. It really is. You have the legendary Ninja Turtles mixing it up in the alternate New York of the mighty Ghostbusters. As a fan of both franchises it is a reassuring to see that the creative team have paid homage to both teams with this crossover. It could easily have been a sloppy attempt at grabbing a few extra dollars, however, the book works well. Book 3 (of 4) sees our collective band of heroes mixing it up with a megalomaniacal demon, his horde of gruesome and mind controlled henchmen (with a mascot in the shape of Casey Jones to add a little spice to proceedings). The plot is your basic good versus evil, with a few complicating factors thrown in. While the concept is a rather well worn road, the handling of the story means that this is an interesting read that is developing well towards (hopefully) a fitting ending.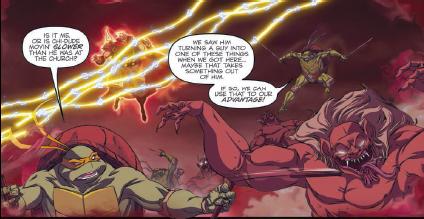 The array of characters could be cause for concern, with each one deserving of the limelight. That isn't a worry here, as everyone gets there moment in the spotlight. The villain of the piece, the dreaded Chi-You, faithfully plays his part as a kind of pantomime bad guy. He is a little tongue-in-cheek, but it works. Humour really helps to bind this tale and keeps it together. It does help that there is such a rich vein with the assembled characters – where there is enough to offer in each group alone, to carry any book. Combined, though, they are beyond awesome.
Issue 3 is a good set up book, the characters and plot are now readied for the final chapter in this entertaining story. With the predatory becoming the pray, with Chi-You now intent on hunting down the Turtles and 'Busters, and the assembled teams focussing on stopping the growing threat of Chi-You, we have, in prospect, what could be a very entertaining final issue. The final face off should offer lots of excellent ninja action, lots of "don't cross the streams" shouting and lots of vaudevillian terror from Chi-You. The prospects are, from the culmination of this issue, good for the conclusion.