Story By Brian K Vaughan
Penciling By Steve Skroce
Colors By Matt Hollingsworth
Published By Image Comics

If you have seen the movie Red Dawn (The Original or the remake) and you were a fan of it, then boy do I have a book for you! We Stand on Guard is a brand new series from the highly talented writer Brian K. Vaughan (Saga, Runaways) and the illustrious Steve Skroce (Action Comics). In just the first issue of the series, this action book will blow you away! 
The story takes place in Canada in the distant future. In an unforseen circumstance, the White House gets attacked and in retaliation, the United States invades Canada pushing the surviving civilians to become nomadic and afraid. Amber, our hero, is out in the wilderness surviving and is trying to find her older brother Tommy, who was taken by the US.  Amber encounters a small group of rebels that call themselves the Two-Four who are a bit skeptical seeing her out in the middle of nowhere alone. There is one surprise after another in this book and I would have to say "WOW". It is hard to for a writer to get the flow of the story going in the first issue of a new series. It usually takes a couple of issues to get the story going on a stable pace. We Stand On Guard does this perfectly in its first issue. Brian K. Vaughan did an excellent job on the flow control and letting the reader know where the hero (Amber) Is coming from. The first 5-6 pages of the book is the prologue and that alone gives you the grasp of the situation. Throughout this issue, it keeps you involved on what is going on and makes the reader anxious how Amber and the Two-Four deals with their situation at hand.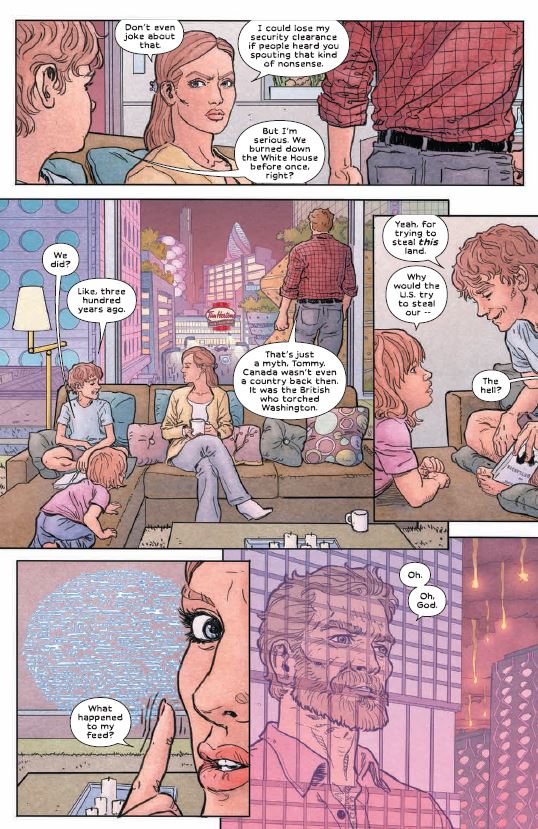 What Steve Skroce brings to the story is amazing and HIGHLY detailed art in this book. Some parts are incredibly graphic and some of the subtle parts are amazingly detailed. Mixed with Matt Hollingsworth's coloring, this is one of the best books visually I have seen this year. The facial expressions were done perfectly but what I absolutely fell in love with, are the designs of the US mechs/droids.  The mechs so far have a Metal Gear Rex nostalgia to them and you can never go wrong with that!  
I cannot illiterate enough that Brian K. Vaughn and Steve Skroce are the perfect storm for this series. I knew that this story will be compelling as always to expect from Brian's previous works. But the amazing art pushes his vision of the story to the next level. I am on the edge of my seat for issue number 2! Stay tuned.