WORLD END ECONOMiCA~complete~ is a kinetic style visual novel developed by Spicy Tails and Spice and Wolf's author, Isuna Hasekura. This futuristic story takes place on the lunar surface through the eyes of runaway Kawaura "Hal" Yoshiharu. Hal, at sixteen, is one of the first members of the lunar-born generation. He dreams big. He dreams of being the first of humankind to reach Mars. Armed with that dream and arrogance of youth, he plans to gamble the stock market to fund his goal. Life doesn't always go to plan. WORLD END ECONOMiCA is Hal's story, his ups and downs in the market and life, the people he meets along the way, and if dreams are worth chasing.
WORLD END ECONOMiCA at heart is a coming of age story. Well executed character development with consistent progression make good use of Hal's forced perspective and the twelve-year plus timeline. Each of the three episodes covers only a short amount of time than the overall length of the story's events. The four-year gap between episodes enhances the passage of time in the world and the believability of characters' growth and story events. Even in the future, on the moon, people need time to heal. Failure and stock market mishaps also have various effects that affect their speed in the world. So the time gaps also allow covering relevant information without delving into detail, keeping the length of WORLD END ECONOMiCA from spiraling out of control while maintaining focus on Hal's progression. 
The stock market and religion's use is intertwined to keep the story from going stale without being imposing on beliefs or feel textbook dull. This can be attributed to using Hal as a filter. We only ever know what Hal thinks and feels. Including knowledge of the other characters, who are no less important than Hal himself, are all filtered through him. It is interesting seeing which tidbits of information or foreshadow come to fruition as Hal makes his path.
This also allows for a clear explanation of how the stock market works. More information is shared as Hal teaches, learns, and looks at different parts of how money operates in stocks. It's presented not as a tutorial, more of an explanation to understand how the world works. The explanation is tied into the story well and fits since Hal does his stock trading by feel and research math and statistics. Later in episode three, the menu has neat bits of information in the menu and highlights certain words if the readers understand the concepts better. Hal occasionally does come across as misogynistic early on. Some of that dies down as his character matures. Related dialog is less problematic and reads more of a tool to show growth from a lone wolf to someone who can connect with people. Hal's introspection and shifting views on greed, human connection, and if one is stuck repeating the same mistakes gives pause to the depth of a boy who wants to fly to Mars.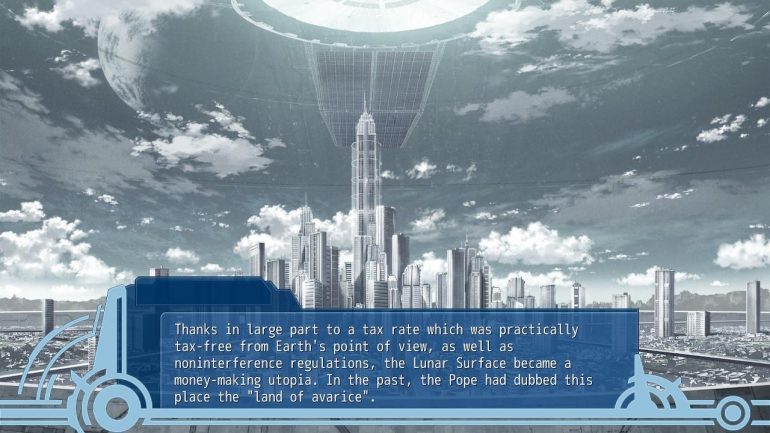 For those that pay close attention, real history is woven into the story, such as market bubbles and historical information on events that affected many in the actual stock market. Again, this information is presented naturally for the events of the story, so it comes across as interesting instead of a history lesson. Using Schrodinger's cat as a philosophical point and street name for the finance area on the moon is a fabulous touch.
WORLD END ECONOMiCA is a visual novel, more book than a game. There is little interaction between player and console beyond progressing the text while enjoying the art and music. Playing is more akin to sipping tea while reading on a quiet afternoon rather than looking for the challenge of complex puzzles—a very casual affair. Well, aggressive readers may be abusing that A button a little. However, the story lends itself to the medium well and is enhanced by art and sound.
Barring each episode's openings and credits, the art is the most skilled use of stills. The text atop is clear and easy to read, with a few exceptions. The style and color palette are, as expected, a soft yet clean anime style. Characters are well defined and mostly match their descriptions. Later episodes even update for the maturing and changes of characters. There are instances where art will flip between styles for characters. Chris, for example, can go back and forth between outfits and hairstyles in one scene. It can come across as a lack of images but could reuse good art assets as the character art is cute. It's distracting but not a major nuisance. The scenery shots are spectacular. The minor details like color change for time of day and cracked walls in decaying areas stand out, thus reducing the need for prose to set the scene. It looks like even the moon enjoys viewing a good sunset. In turn, the story text speaks about the scenery tying text and image together. 
The music itself does not distract from the immersive experience. Rather, soundtrack tempo is used to affect the flow of scenes. Upbeat music played during more intense scenes. One example is when Hals run from the Lunar police at the beginning of episode one. While slower, more relaxing melodies are predominant in calmer scenes, typically discussions and bittersweet moments. Interactions between Hal and Lisa are good examples as their discussions lean towards being reflective. While not limited to the two, it enhances Lisa's caring side. She is the one who takes in Hal, Hagana, and others and nurtures plot progression despite her own battles. Other additions such as footsteps and chimes sneak in as well. Additionally, music fade-outs help replace the white spaces on pages denoting scenes and chapter changes. Small things, but they really enhance from just reading, makes things like visual novels make sense.
WORLD END ECONOMiCA isn't perfect. There is a feature at each episode's end to view art and play the music tracks. However, once you leave the screen, access to that vanishes. It seems odd that playing, or skipping, to the end is required to get there again. There are some inconsistencies and typos here. Being able to view the text log helps. Much like the art flips, it cannot be enjoyable, but the overall meaning gets across. On the flip side, the save function is fabulous; often, saving and anywhere is priceless. It makes reading for an hour here and there much more doable on a busy day. The text speeds and auto controls are well executed. It really allows for the option to go with the flow or speed read-through. While available on Stream, it handles on the Switch well regardless of handheld or docked mode. It really gives options on how readers want to dive into WORLD END ECONOMiCA. Flaws and all, an enjoyable visual novel and worthwhile library addition.
WORLD END ECONOMiCA~complete~ Review
WORLD END ECONOMiCA~complete~ follows a young boy, Kawaura "Hal" Yoshiharu, who has lofty goals and the ambition to use the stock market to meet them. As he connects with people will the ups and downs of moon colony life help or hinder his path?
Pros
Good story pacing
Clean art style
Easy saving
Cons
The art and music viewer is not easily accessible post game
Little user interaction