2000AD – Prog 1908
Judge Dredd: Block Judge:
Written by: John Wagner
Art by: Carlos Ezquerra
All Published by: Rebellion
Opening the Prog is the Mighty Tharg, when he announces: "I welcome you. Terrans, to the Galaxy's Greatest Comic" you know the fun is about to start. And kicking off, we have the legend that is Judge Dredd featuring in the 9th part of Block Judge. This tale is brought to you by Wagner and Ezquerra – the masters of Judge Dredd! We start in a Dredd versus 20 assailants – the trouble on the block is spread across numerous levels and it is up to Dredd, Mendis and Judge Corrigan to take down the perps. As is fitting for such luminaries of comics, this Dredd story scuttles along at a canter, the action bursting from the page. A great way to kick off this Prog!
Stickleback:
Written by: Ian Edginton
Art by: D'Israeli
Stickleback is up next, a visually unsettling piece brought to you by Ian Edginton – we join this story in the midst of a street battle involving a nightmarish dragon. The pace is frenetic and each panel offers something different, interesting, and despite the black, white, grey elements, the pages are vibrant.
Greysuit – Prince of Darkness:
Written by: Pat Mills
Art by: John Higgins
I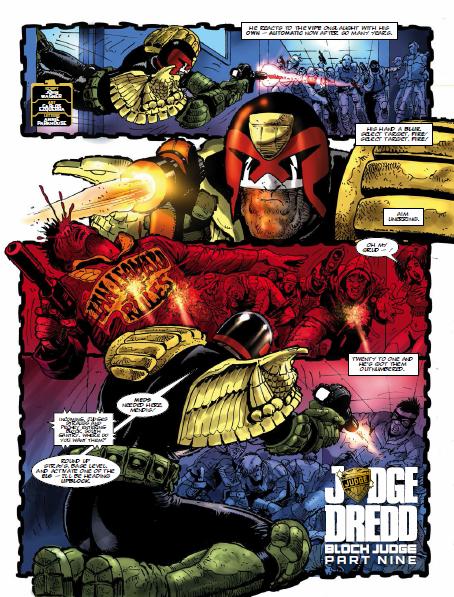 n Greysuit: Prince of Darkness (part 8), we have the case of the Family Man – a hitman of the highest calibre is on the prowl. The set up is ponderous and builds to a fitting denouement. It does feel very one sided in terms of the characterisation and we don't really get a feel for the Family Man, barring his observable traits.
The Grievous Journey of Ichabod Azrael:
Written by: Bob Williams
Art by: Michael Dowling
Ichabod Azreal is a real treat of a tale, visually it is a feast for the eyes, the use of dark and light is breathtaking. The story itself is really cool, Bob Williams has done a cracking job here, with some intriguing characters in a dark and twisted tale. As the penultimate offering in this Prog it is a quality piece.
Kingdom:
Written by: Dan Abnett
Art: Richard Elson
The last tale of Prod 1908 is Kingdom: Aux Drift, part 9. This is big monster science fiction, an adrenalin fuelled aerial assault story. Kingdom is, like the vast majority of stories on display here, very appealing on the eye. The story ripples along, the battle rages and blood is spilled, heroes fall and just as this part comes to an end we have a cliff-hanger to leave us awaiting the next Prog.
2000AD is a long running comic, one rooted in the very best traditions of science fiction and story telling. With the seminal Judge Dredd and a whole host of fabulous characters and tales, the varied offerings in Prog 1908 come together in an engrossing and entertaining manner. Roll on the next issue in the continuing glory that is the Galaxy's best comic!
Overall Score:
8/10