Story by: Brian Wood
Art by: Tristan Jones
Colors: Dan Jackson
Letters: Nate Piekos
Published by: Dark Horse Comics

Aliens: Defiance #2 is a very nicely crafted book from the front cover to the final panel. The excellent cover, by Massimo Carnevale, really sets the tone for the story; the color technique really imbues the tale with some relevant heat.
We pick up this issue with the Colonial Marine Zula Hendricks AWOL with a group of combat synthetics – she has a mission to eradicate the Xenomorph threat. As the story opens, Hendricks and Co. are on approach to LV-44-40, a space-station that has stopped transmitting data – the suspicion is that it is infected with the Xenomorphs.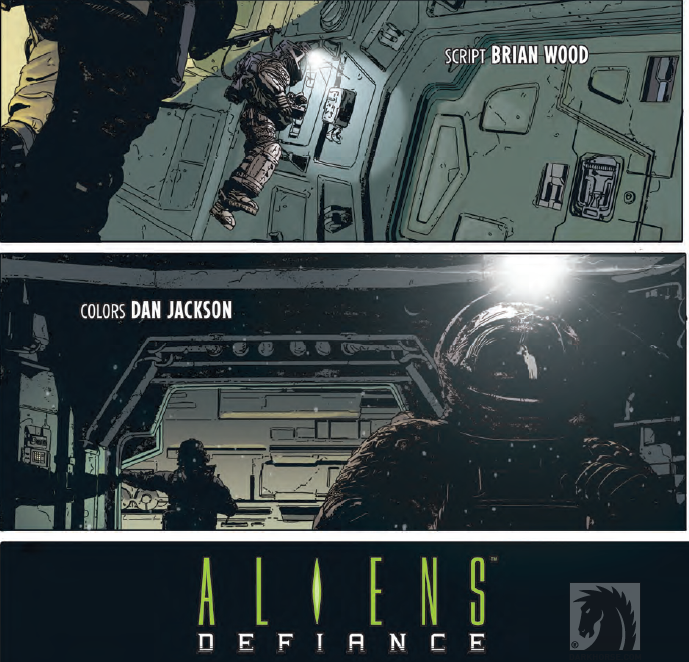 The story by Brian Wood is very effectively structured and the issue flows from start to finish. The characterization is handled well, while Hendricks does have possibly a bit too much to round out the character, it is a forgivable indulgence. Brian successfully manages the set up and tension for the story and the gradual reveal of the Xenomorph happens in a natural manner. The vibe on this book is very much in keeping with the Aliens mythology – there is action, tension, horror.
The art of Tristan Jones is worthwhile. In particular, the external shots of the ship and the space station are very nicely done. Illustrating the legendary Xenomorph's can sometimes look off in comics but Tristan nails it on this book. It is worth noting the work of Dan Jackson on colours. In addition to the work of Tristan Jones the colour work of Dan really helps bring the story to life.
Issue 2 of Aliens: Defiance wraps to a satisfying conclusion and with writing of this quality the following issue is bound to be worthwhile. This book is an all-round solid piece of sequential fiction, the story works very well, with solid characterization and the art team deliver on the promise of the story. Due homage is made to the Alien franchise – with nods to the horror of the original movie in terms of atmosphere and the similarities to the synthetic on that mission. A quality book, very well worth a read.