Birthright #2
Writer: Joshua Williamson
Art: Andrei Bressan
Colors: Adriano Lucas
Publisher: Image Comics
Birthright opened with a killer first issue last month, introducing us to a family thrown into turmoil and a young boy destined to become an epic hero. It's every kid's fantasy to beat the bad guy and save the world, right? But issue #2 shows us there's so much more at work here, and it's not all heroism and adventure.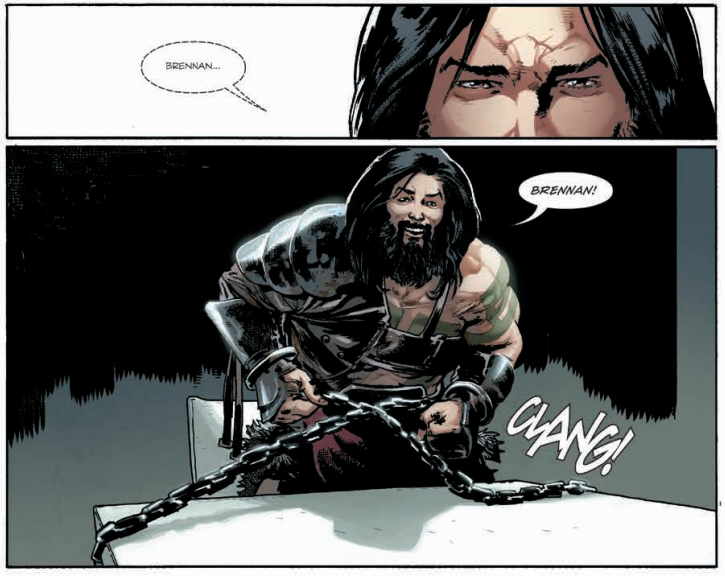 The story takes cues from the classics like Peter Pan, Goonies, and The NeverEnding Story, but Birthright throws more than one twist into the mix. Writer Joshua Williamson (Nailbiter, Ghosted) and artist Andrei Bressan are really telling two stories in one: the history of Mikey's quest to save Terrenos, and what's going to happen now that he's home. The Rhodes family was broken by his disappearance and everyone is having a tough time believing this grizzly bear of a man is really their missing boy. His father is the only one who seems to have complete faith in him, but as crazy as it sounds, "Conan" (as some of the police call him) just might be telling the truth.
The pacing of this issue is much slower than #1, but there's still a lot to digest. The storytelling switches between the police interrogation room and the fantasy landscapes of Terrenos without getting too confusing. Despite the overabundance of exposition, there's still a fair amount of pulse-pounding action. This issue starts to answer the question of how a boy barely old enough for school turns into a major badass warrior. There are a few moments in particular that show him beginning to grow from little Mikey Rhodes into the great and powerful… wait, he does have a hero name, doesn't he? He has to have a hero name! Maybe next issue.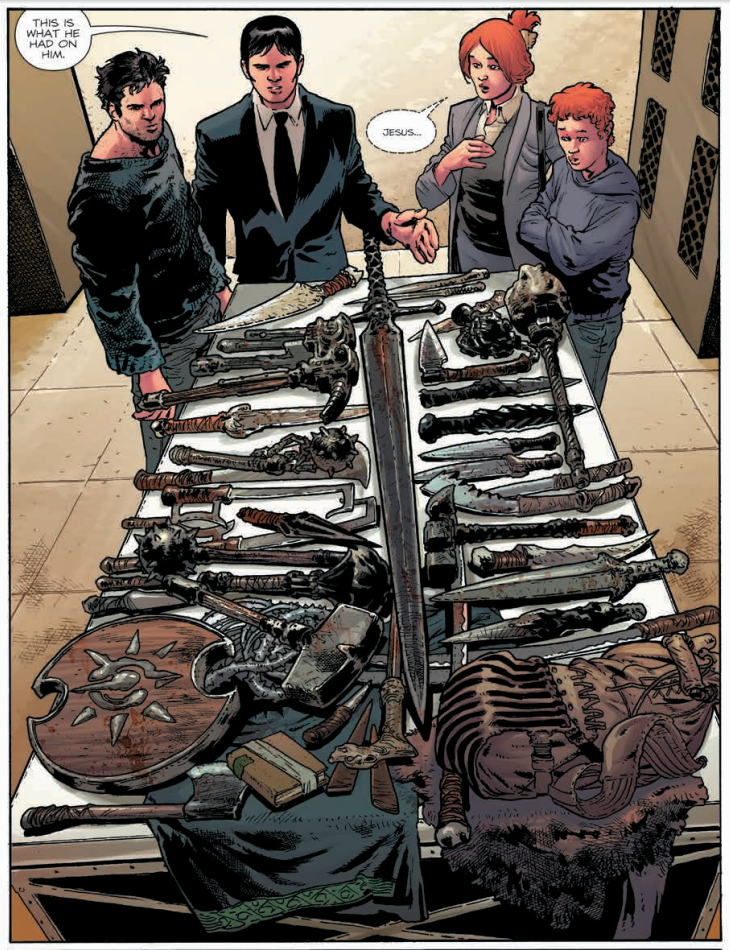 The art of Birthright fits the tone of the story perfectly, and the colors by Adriano Lucas are grounded in rich earth tones with bursts of magic and color. The panel layout is pretty straightforward and will be familiar to most comic readers. The simplicity and use of negative space in several panels was particularly impressive. The movement in the art is beautiful, too. Bressan's art shows a lot of motion to begin with, and Lucas' colors really sing across those panels packed with action. There was some inconsistency though. While most of the action panels are dynamic and full of intensity, there are a couple that come across as stagnant in comparison.
Then there are the epic moments of utter badassery. You'll have to read the comic to see those, but let's put it this way: take a look at the arsenal he was packing in the image accompanying this review. Now imagine that's only a fraction of what he's capable of even without a stitch of weaponry on him. I can't wait to see this guy let loose once he gets his weapons back. If you want to see it too, call your local comic shop and add Birthright to your subscriptions now, because issue #3 is due out December 3rd!
Overall Score:

8/10