Story by: Jackson Lanzing & Collin Kelly
Art by: Marcus To
Colors: Irma Kniivila
Letters: Jim Campbell
Published by: Boom! Studios
Joyride issue 2 takes a brief pause before launching headlong into a pulse pounding chase scene for our intrepid trio, on the run from some rather persistent alien cops. The initial pause lays some background, which is a good way to open proceedings – while the ensuing chaos provides the perfect antidote to the slow opening. From the chase point onwards the action barely eases.
The art on this book is very smooth from Marcus To – the vibrant imagery, from the cacophony of the action, the parkour inspired movements of the trio fleeing the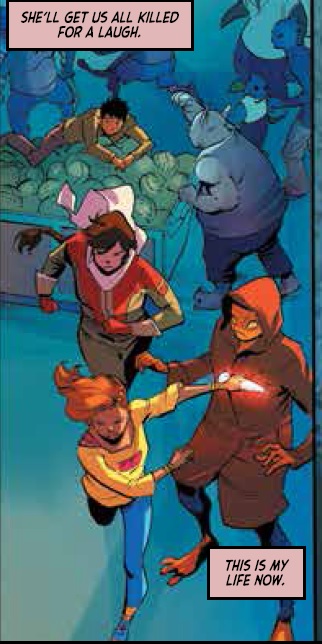 police, to the sections that are imbued with necessary dialogue, Marcus handles every aspect. The space station is nicely rendered, with the varied environs keeping the reader interested.
The script by Lanzing and Kelly fizzes along nicely, allowing the character dynamic to develop between the humans, while the plot takes the reader from intro to culmination without a single misstep. The narrative is engaging, and considering the target for the book is sci-fi adventure, it is sufficient for the purpose. The dialogue is authentic enough, between the central characters and the new elements on the space station that is home to the majority of the action in this issue.
From the opening to segment to the close, there is an overarching and containing bookends that shadow all that happens to our heroes. It's a useful method to have a separate thread of plot while the main elements come to the fore.
As the protagonists close out the issue it's been an energetic ride, maybe the lead character does seem to have an unbalanced nature, maybe the doe eyed youth is a little one dimensional, but the overall vibe works. The energy from Lanzing and Kelly is enough to keep the pages ticking over quickly; the art is technically good and interesting enough engage from start to stop. This appears to be a nicely developing book, with a carefully managed plot and organic development of the characters.