Story By: Greg Rucka
Art By: Matthew Clark & Liam Sharp
Colors By Jeremy Colwell & Laura Martin
Inks By Sean Parsons
Published By DC Comics
DC is officially underway with Rebirth! Some of your favorite DC Superheroes are being introduced in a set of new Rebirth stories. One of the most popular heroes is Wonder Woman! Fresh off her biggest battles in Justice League 50, Wonder Woman Rebirth #1 picks up from the ashes with the beginning of a new plot, a new twist and then some. 
Wonder Woman Rebirth #1 has the whole book with Diana self monologuing the events in her past, her present and possible different futures. During her deep thoughts, Diana realizes that she has been lied to about her upbringings and she decides to find the truth. During the beginning of her investigation, some defense monsters attacks her and it is the start of an adventure. Greg Rucka is very talented writer but, I feel this book is starting very slow. The self monologue of Wonder Woman is a long and slow process especially when she gets the revelation to investigate. One of the things that Greg Rucka did in this issue that I liked was the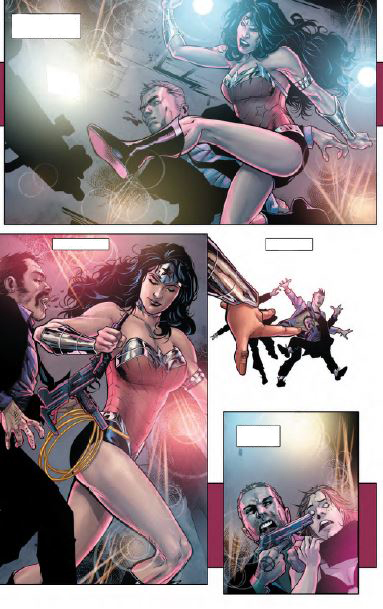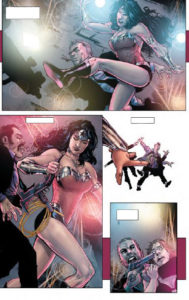 consilidation of the different origin stories of Wonder Woman's past. He treats them as possible truths and Diana needs to find out what is going on. 
One of the issues of book i have is art's consistancy. The pencils in the beginning of the book is bland but, it progressively gets better when the reader reads on. Its night and day difference when Liam Sharp takes Matthew Clark's place in this book. Some best parts are the full page spreads and the last page is simply gorgeous. Hopefully, Wonder Woman issues in the future will contain the level of style that Liam Sharp brings to this book. 
Overall, Wonder Woman Rebirth #1 has enough for the reader to asking questions on Wonder Woman's upringings. I think this series has potential and hopefully, it will give Wonder Woman fans some sort of stability on her upbringings.