Blood & Dust: The Life & Undeath of Judd Glenny
Written by: Michael R. Martin & Adam J. Orndorff
Art by: Rudy Vasquez
Published by: NiteShade Publications LLC
Welcome to the sleepy town of Boggy Depot. A quiet little slice of the Southern Oklahoma landscape; scenic, lush and home to a dark and deadly secret: Judd Glenny. This first issue is a perfect scene setter for the story, we get a thorough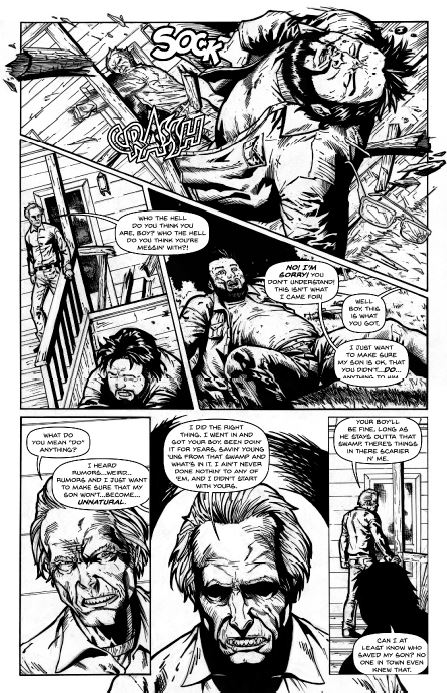 grounding in the life of the titular character as he leaps from the page in visceral, yet muted gory glory. The basic overview of Judd, in terms of the contents of this book, is that he's a dark, moody, and yet redemptive character – there is a duality to his nature, capable of brutality on the one side and on the other, he is a saviour.
Blood & Dust is the result of a successful kickstarter campaign, and you can feel the blood, sweat and tears that have been expended in the creation of this book. From the cover, you get the feel of the book, there is danger in those eyes and the color wash has a nice antiquated allure. The children on the cover lend a haunted charm. Once past the cover, we delve into a starkly black and white tale. The initial aim of this book is to show the reader who our anti-hero is, and that is very effectively done. The writers use a simple method to evince a gruff narration from Judd, as to who he is and what he is about. It may be a simple technique (a thankful stranger knocking at his door) but it does work effectively.
With the stark use of black and white art, of bleak pages devoid of colour, the use of shadow really lends itself well to the ambiance of the book. The art is of a good standard, the style is simple yet effective. Some of the expressions are a little too exaggerated in certain panels. Rudy does manage to evoke the intended emotion, so you can feel the correct sense in the characters, but it is an area that could have been done a little sharper. It isn't a bad effort from Rudy, the anatomy and framing of the action is done well enough. Structures and the wildlife, flora and fauna are well represented.
Blood and Dust is a decent first outing of the title, we get a solid overview of the story, the pace is managed effectively and our interest is sufficiently piqued to hope that there is more to come from this story.
Overall Score:
7/10