As a kid of the '80s, I grew up at a time where 2D platform adventure games were incredibly tough. There was no internet to help you when stuck, barely any strategy guides to assist you, and calling the Nintendo Powerline hotline was just too expensive. One of the most memorable games during this time was Ninja Gaiden. That series is the epitome of problematic 2D platform gaming. Even today Ninja Gaiden is still a reference point for retro 2D platformers. The latest one of these games is Cyber Shadow. Created by Aarne Hunziker originally as a side project, Cyber Shadow caught Shovel Knight developer Yacht Club Games' eyes. This visually stunning retro-like platforming game definitely echoes Ninja Gaiden. 
In Cyber Shadow, you play as Shadow, a cybernetic ninja in stasis due to an explosion that severely crippled you. The explosion caused major destruction in the cybernetic city you were in, Meka City. Due to this active mayhem, all the city robots go berserk, and almost your entire ninja clan gets decimated. You get out of stasis with the help of a droid named L-gion, and you explore the remains of the city to rescue the leader of your clan from the evil Dr. Progen. I was surprised how story driven Cyber Shadow is. Throughout the game, the story progresses fairly steadily. Although, at time, it drags a little. However, it picks itself up by having great boss battles.  
The journey to becoming a super cybernetic ninja is what makes Cyber Shadow a fun game to play. When you start the game, you have nothing. All you have is a jump and slash attack making some of the beginning puzzles fairly challenging. When you progress later in the story, your abilities expand, and you can do extraordinary things Like reflect projectiles, throwing ninja stars, and have a very cool slash dash attack. While your abilities get more robust, the stages get more challenging as well. This is where I feel Cyber Shadow underperforms. Stages can be very tough to get around. However, some of the designs and the hurdles to complete some locations are not very straight forward. There is one stage that has living spikes that grow out of the walls when you encounter them. At first, they are not bad, but later on throughout the stage, it feels the game uses the spikes as a mechanism to punish the player for not reaching certain zones. Although this is not a deal breaker for the game overall, I could see it being a little frustrating for some gamers. 
One of my favorite parts of Cyber Shadow are the cyber puzzle stages. As an android you can connect to an online network. There are parts in Cyber Shadow that allows you to jack in and solve cybernetic puzzles. These puzzles unlock unique features to stages, specific areas, and more. I could not help but feel that this aspect of the game was minimal. I wish that there were more of those kinds of stages to solve than experience a massive amount of living spikes.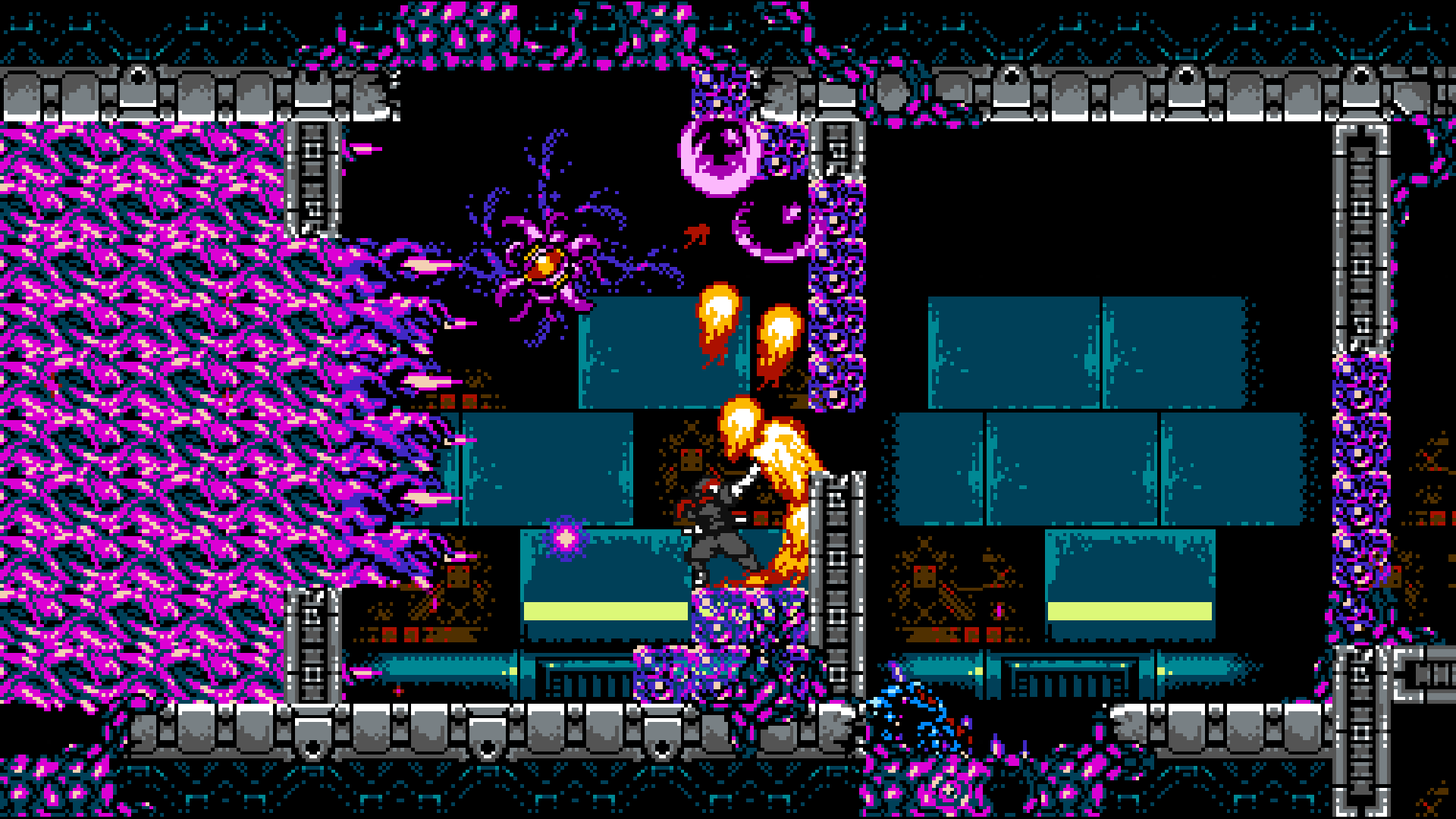 Cyber Shadow has a banging soundtrack. The chiptunes made by Enrique Martin sets the mood perfectly for what you are experiencing during a playthrough. With the heavy tones in industrial stages and a more somber mood during the story parts, the music gives a voice to a voiceless game. The tracks are so good. In fact, I would not be surprised if they release them as an OST. 
Overall, Cyber Shadow is a fun game to play. The terrific storytelling cut scene graphics and some excellent special move mechanics make the game enjoyable. However, it feels like the game has a lot of concepts that weren't fully realized and integrated. I believe this hurts the natural feel of the stages that were made. It picks itself back up with some excellent boss fights, as well as an in-depth story. I would recommend playing Cyber Shadow to fans of hardcore platforming games. 
Cyber-Shadow Review
The game hits the mark on the looks of a retro side-scrolling ninja game of the past. My wish however is better puzzle play and in-game mechanics.
Pros
The music is on point
Great retro feel cutscenes
Cons
Very limited cyber puzzles
Low replay value
Dull story