Published by: Rebellion
Story: Top of the World, Ma-Ma
Story by: Matt Smith
Art by: Henry Flint
Colours by: Chris Blythe
In the first story of Urban Warfare – the comic book sequel to the excellent movie: Dredd – we revisit Ma-Ma (in her pre-Peach Trees days) and get to know her better. The story is a very human one; Matt Smith takes us down the rabbit hole of Ma-Ma's blighted past, we see her evolution, her pain, and we can, on some level, empathise with her. It's gritty, tough, and uncompromising stuff – pretty much a summation of Judge Dredd himself. The art by Henry Flint works well, conveying the urban rot and ruin of Mega City One. Among the sprawl and chaos, amid the brutality of life in the meat grinder – Flint conveys that necessary element to make a story relatable: the human touch.
Story: Underbelly
Story by: Arthur Wyatt
Art by: Henry Flint
Colours: Chris Blythe
In Underbelly we have a story of exploitation, human misery and, wading through it all, is the imperious Dredd! This tale is a blast, written by Arthur Wyatt, we are taken on a dark and dangerous trip into the most miserable depths of Mega City One. Some of the art here is beautiful – there are some moments of sheer, cinematic splendor – though Henry Flint doesn't overdo it. I prefer the art in this story, despite the prior tale being illustrated by the same artist, there is just something really on song about this. Maybe it is the subject matter, or the protagonists, but I feel that Flint has really excelled himself here.
Story: Uprise
Story by: Arthur Wyatt
Art by: Paul Davidson
Colours by: Chris Blythe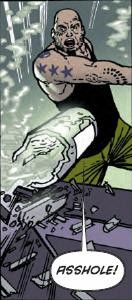 Of the stories on offer here, Uprise has the scope, action, characters and depth, to form the basis for a quality follow up to the Dredd movie. It has everything, action, drama, intrigue, violence, and lots of lovely, cuddly puppies… well, you can scratch the puppies, but on the whole you have, in Uprise, the kind of story that mixes classic Dredd elements with a pulsating storyline. Uprise also benefits from some of the tech on display, visually there are comparisons between some staples of sci-fi, while there is also a nod towards Anime.
In summary, what you get with Urban Warfare is a mix of stories, all centered around or involving Judge Dredd. The writing by Smith and Wyatt is solid, and the art by Davidson and Flint adds an extra layer of quality to a very impressive book. A worth follow up to Dredd (3D)