First Ever Extra-Life Fundraising Experience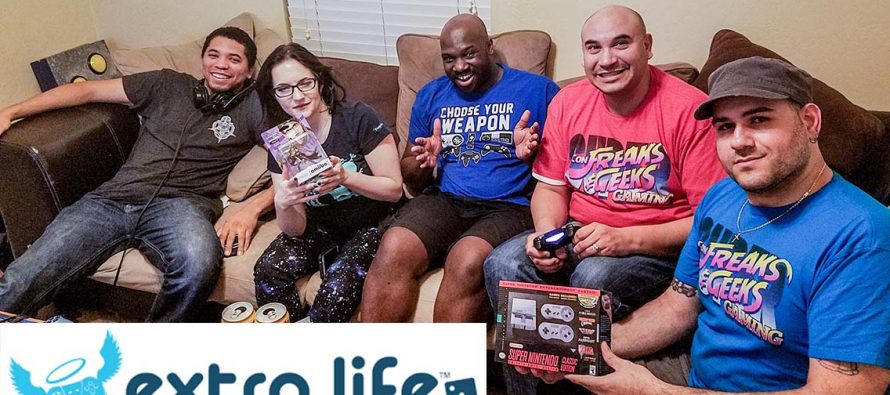 What happens when you get a group of CFG Games nerds in a room for 24 hours? You have a group of geeks motivated to reach their goal for the good of sick kids! On November 4th, 2017, CFG Games participated in raising money for the Phoenix Childrens Hospital by doing Extra-Life. Extra-Life goes through the Children's Miracle Network and allows all types of people to raise money for children's hospitals all across the world. ConFreaks & Geeks co-founder Davies Green took on the task of reaching their goal of $1,000 with a bunch of CFG Games reviewers like George Robinson, Matty Lizarraras, Preston Evans, and Franky Abraham. During the stream, some surprise guests like Aly and Chad from ChitChad & ChitChad Plays on Youtube and FuuCosplay came to support the cause. 
During the 24 hour fundraiser, the gang played an assortment of games ranging from Super Mario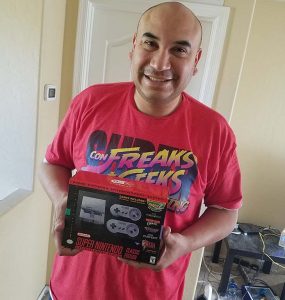 Odyssey all the way back to the SNES by playing Zombies Ate My Neighbors. Some of the best moments during the Extra-Life stream was when someone donated money and requested the gang to play some Windjammers! CFG Games got really into playing it for a good hour!
CFG Games gave all sort of incentives for people to donate for the kids. These included video games, Amiibo figures, T-shirts, and the really big prize, a SNES Classic. One lucky winner was so ecstatic for winning the grand prize that they even donated more!
The moment finally came! The gang reached their goal and now it was time to put their money where their mouths were. Davies, Matty, and George took part of the Pacqui #OneChipChallenge to end of their successful Extra-Life Stream. 
CFG Games would like to thank everyone who participated in making Extra-Life successful this year. A very big thanks to everyone that donated for this great cause. The CFG crew will be planning something bigger next year! 
If you would like to donate to help sick children, its never too late! Checkout The CFG donation page by clicking here.
---
---
Related Articles
After a long hiatus, Cosplay Hidden Treasures is back with a brand new episode! This time, Davies talks
The first thing we saw was game-play of Halo 5, which resembled a next-gen Halo. It seems like you now have
Hold on to your hats, writer Chris Welsh and his artist collaborator Ammar Al-Chalabi are unleashing their cosmic horror webcomic