Written by: Hiromu Arakawa
Art and Colors by: Hiromu Arakawa and Steve Dutro
Published by: Viz Media

FullMetal Alchemist is one of the most recognized manga series in both Japan and in the United States. In its initial run from 2001-2009, it had an entire generation grow up with a story that was both magical and grounded in reality. The manga tells the story of the Elric Brothers (Edward and Alphonse) searching for clues on where to find the philosopher's stone, the penultimate answer to all their problems. As most know who have read the series, the two brothers suffered a tragedy that left the elder brother Edward without an arm and leg and Alphonse, the younger sibling, with only a soul confined a suit of armor. Full Alchemist grew in popularity by having two separate anime series. Full Metal Alchemist (2003) and Full Metal Alchemist: Brotherhood (2009) expanded its audience and racked up its international acclaim. Since the series' end, there hasn't been much movement in publications that were much worth of note. That is, until now: The FULLMETAL version of chapters 1-6 has ended the dry spell of alchemy and has given us beautiful renditions of the origin of our two favorite alchemy bros.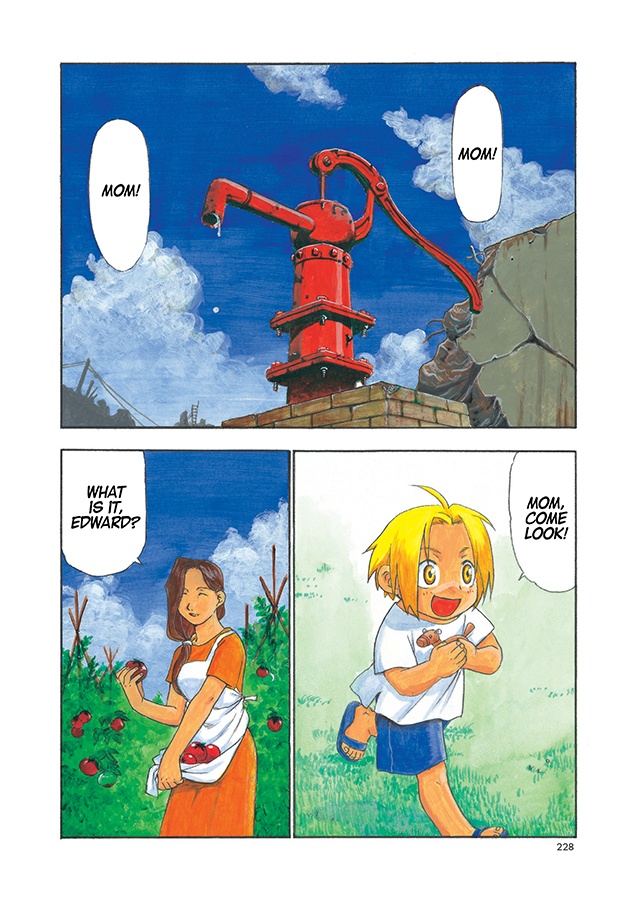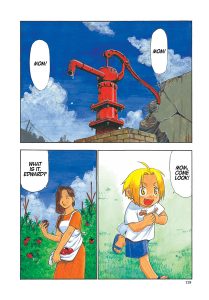 Many reading this have probably have read the entire series beginning to end and are wondering if this new publication is worth buying. After all, the story is the same; Ed is still short and Al is still ironically adorable. From one manga owner to another, it can be scary maintaining the quality of your collection especially with how fragile the covers can be. The FULLMETAL Edition has a sturdy hard cover that is less vulnerable to pesky moisture and has a beautiful color rendition of our favorite shorty-State Alchemist Edward Elric. When viewing the entire volume with its spine at the center, you have a full shot of Edward Elric showing off his auto-mail arm in full splendor.
Other than the the pretty hard cover and its structure, we have a lot more going on inside. Manga covers are usually laminated to prevent water damage but it is still hard to protect these books from the elements (R.I.P my Wolf's Rain collection). There is a fitting red interior to the hard cover, flanked by a translucent page revealing a colored full body picture of Edward Elric once again gracing our presence. I'm not a paper expert by any means but it is easy to compare the quality of a regular shōnen magazine or Tankōbon–style paper to what is used in this publication. It can be described as having a waxy finish. Each page is a perfected recreation of the original six chapters- all with a little bit more immortality sprinkled on top. Isn't that what this story is about anyways?
Although the entire book isn't in color, we are indulged with lively spread covers at the beginning of chapers 1 and 6. While it is a bit sad we couldn't get more colored pages, the way these two covers were portrayed almost makes up for it. Let us not forget the infamous first page of the manga, showing Edward crawling on the ground with one leg missing, leading a trail of blood. The color job is raw and representative to not only the art style of Arakawa but also the emphasis of tragedy our heroes had to overcome together. 
Viz Media has always done a terrific job at maintaining the integrity of many mangaka. Nostalgia is strong to ignore but just as powerful is the care that went into creating a long lasting casing for a timeless story. Of course, within the confines of equivalent exchange, taking the time to read through these 6 chapters will reward you with some sketches from Hiromu Arakawa herself. Hard core fans and newcomers alike will come to appreciate the evolution in design of our titular protagonist. That is, if you don't "Doctor Tucker" yourself to the end and ruin the whole thing for yourself!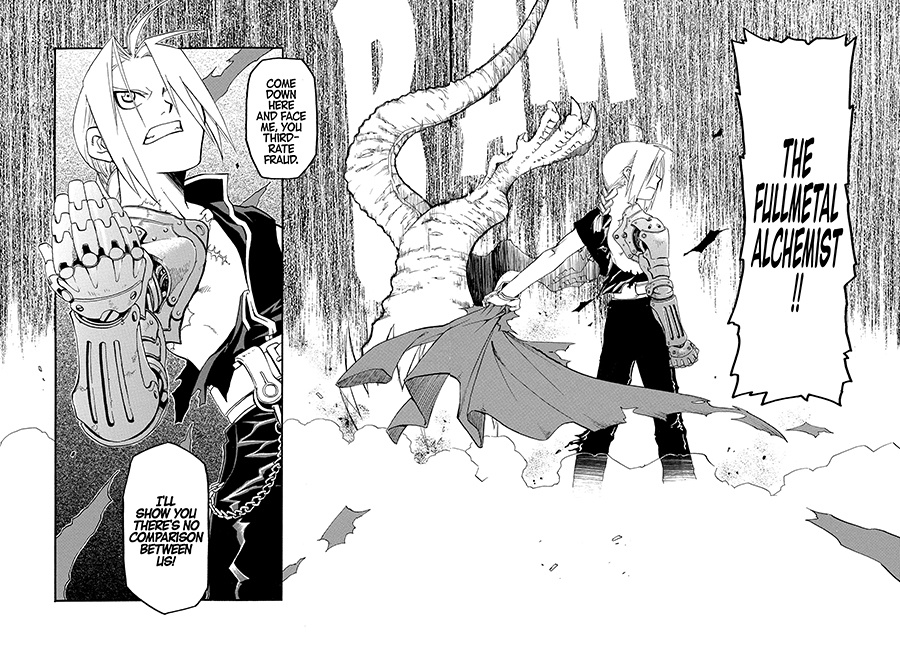 It really makes me happy to know that the FULLMETAL Edition is numbered (this review being 01). The original volumes were numbered 1-4. So this edition is 2 whole chapters bigger. You get a whole lot more story in one medium. This also means there will be less FULLMETAL Editions than there are traditional volumes. With 108 chapters, you are looking at most 18 volumes. Can you imagine the exclusive original sketches and cover variations? It will be hard for a collector such as myself to simply disregard a full set. 
FULLMETAL Edition is a spark of nostalgia that allows you to revisit a fully fleshed out world and its many marvels and dangers all over again. If you a true Full Metal Alchemist fan or, if you're wanting to try the series for the first time, there is no better way to follow the journey of the Elric Brothers than by picking up this new anthology.