Story by: Rob Williams
Art by: Dom Reardon
Published by: Rebellion
The Grievous Journey of Ichabod Azreal (and the DEAD LEFT in His WAKE) is one of those rare entities, a book that you can't put down; the story, by Rob Williams, snares you with the narrative, entrances you with the characters and slays you with the action. The script is both elegant and brutal, and #2 is so good that I read it again as soon as I'd finished it the first time.
The character of Ichabod is not a pleasant one, he's as bad as they come and twice as mean. And yet, despite that, as this series progresses, you find yourself rooting for him.
Dom Reardon lays out the story in a typically bleak, raw style. Black and white pages flip by in a blur of bullets and harsh landscapes. The somewhat surreal aspects of the story are well rendered and don't jar the contiguous nature of the narrative. While the majority of the book is pretty solid from Reardon, there are a few panels that could be a little sharper; relating to expression. In most other areas the book comes across very well.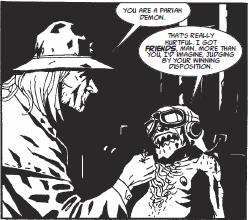 There is limited use of color in the book, which deliver warmth and offset the glaring coldness of the landscape. Reardon's style fits beautifully with the story, the western feel translates very well and the animals on display are well rendered.
As much as the art is complimentary to the book, it is really the quality of the writing that marks this issue out. Rob Williams has put together a story that is compelling in a way that many fail to emulate: Ichabod Azreal is worthy of the highest praise that prose can deliver. The fist installment of this series was competent, it worked as an introduction, but this issue has really raised the profile of Ichabod Azreal.
As this issue reaches its' climax, as Williams twists the knife, we are presented with a very juicy morsel that throws a kink in the story. Thankfully, it isn't a twist for the sake of it, but an organic exercise in 'story'. Now comes the hard part, waiting for the next issue to see if it is as sublime as this one – I hope so!