ConFreaks & Geeks once again attended IndieCade, a juried festival showcasing recently released and forthcoming independent game titles. This was IndieCade's fifteenth year, and once again the event was held at Santa Monica College. We enjoyed browsing the nominated game galleries, which were filled with unique titles that utilized experimental control schemes and fascinating mechanics. These titles' control schemes were highly varied as they spanned touch screens, keyboard and mouse, virtual reality, 3D printed pieces, and more. We are excited to share our impressions of some of the notable titles from the event. 
ElemenTerra by Freeform Labs
ElemenTerra is a virtual reality game in which players are tasked with saving animals with the power of the sun. I was drawn to the vibrant visuals and it was quite Intuitive using my right hand to select abilities from the palette on my left hand. I was able to create rock bridges and plant fruit that grows into nourishing trees. The entire game was rather laid-back and it was quite entertaining figuring out how to help the different animals on the field. 
Spring Falls by SPARSE//GameDev
Spring Falls' goal is to move water from a mountain source to saplings. Each level is comprised of hexes, and players lower ground tiles to spread water across the playfield. However, players must be careful to not let water spill off of the side of the mountain. Fortunately, undoing actions is a snap, and the puzzles are intuitively built. The elegant aesthetics are inspired by hiking experiences in the Appalachian Mountains. We can't wait to check out more of the relaxing puzzles.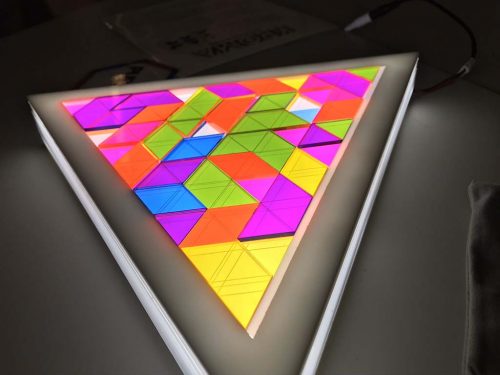 Kroma by Carol Mertz, Kai Karhu, Francesca Carletto-Leon, & Temitope Olujobi
Kroma is a board game that involves strategic color based piece positioning. It supports 2 to 3 players on a single backlit field. The goal is to overlap red, blue, and yellow pieces to create as much of your intermediate color on the board as possible. For example, the Orange player would try to overlap red tiles on yellows to create orange. The strategy comes with trying to out-zone opponents and avoiding situations where they can easily create their color as well. The random piece draws kept us on our toes, and we had some rather fantastic neck-to-neck matches.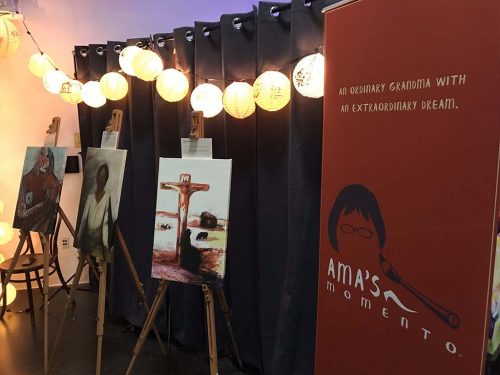 Ama's Momento by the Momento Team
Ama's Momento is a three-part experience that encapsulates a grandma's love for art and travel. As an augmented reality experience, a video installation, and a virtual reality environment, Ama's Momento enthralled us with its comprehensive documentation and inspirational, heart-warming narrative. We gained additional insight into Ama's life story via speech, 3D animation, on-screen text, and a navigatable recreation of her home. The whole experience was certainly quite touching and captivating.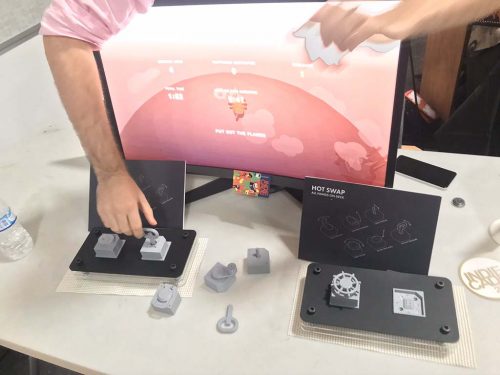 Hot Swap by Peter Gyory & Clement Zheng
Hot Swap's control scheme provided a hectic co-op experience that truly felt unique. Two players control a ship on the high seas via modular pieces. Each player's controller has two slots, and the pieces can freely be placed and removed depending on the situation. The steering wheel piece actually has an operational wheel that turns, and firing and reloading either player's cannons requires slotting the respective piece into the proper side. The result is some fast-paced antics as players strive to grab as much treasure as possible, defeat incoming enemies, and put out fires.