Writer: Kelly Thompson
Art: Jenn St-Onge
Colors: M. Victoria Robado
Publisher: IDW Publishing
The Misfits have a hit reality show; they need it after losing their record label and making enemies with other bands, including Jem and The Holograms. Their fans can't get enough, especially if there is a juicy storyline. Roxy has been feeling the pressure from the cameras and in one moment of weakness. She planned to reveal she has been battling illiteracy but out of nowhere, Jetta steps in. She does not want Roxy to be the story, so she makes a big reveal herself that may change her position in the band and how she is viewed by the public as well.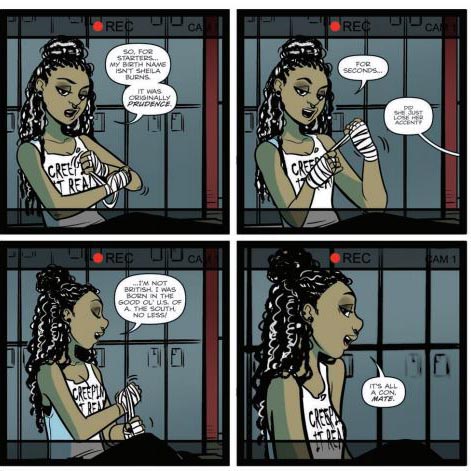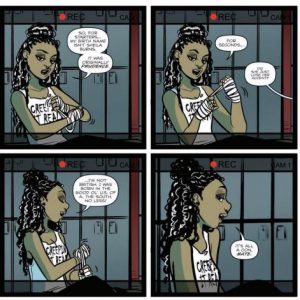 Kelly Thompson has got girl power down to the grrl. All the characters have their own great personalities. Jetta is a nice new addition to the group and the way she is written in this series has been consistently solid. Thompson does a wonderful job laying out her backstory and how all the ladies come together to share, making it a wonderful friendship moment. This is great writing for female characters by a female writer.
What caught my eye was the art. The original series was great and showed diversity as far as nationality. The artwork that Jenn St-Onge provides not only show nationality diversity, but shows females in more realistic shapes, sizes and sexuality. Jenn St-Onge is the reason I picked up this comic. I love her style; it is expressive, just enough realism that enjoy in comic art. Her approach to the different ways each band member is represented in how they are drawn is refreshing. Not all women are shape the same, nor should they be all drawn one way. Thank you Jenn St-Onge! As a perfect complement to the drawings, M. Victoria Robado is amazing on the colors. The Misfits colors were always hard in contrast to Jem and The Holograms, Robado keeps in step with the color palette. The splash pages are amazing, I want to frame them!