JoJo's Bizarre Adventure Vol 1 Review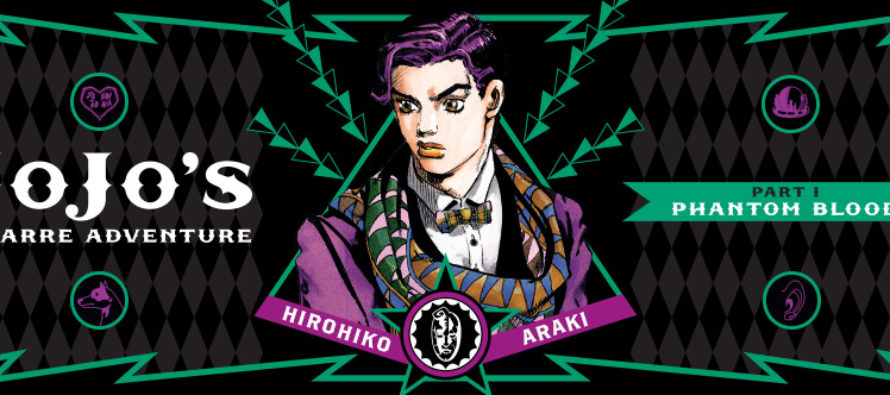 Written and Illustrated by Hirohiko Araki
Published by Viz Media
The 80's were chock full of cool, iconic stuff that is still relevant today. One thing that I never personally got to experience was Jojo's Bizarre Adventure. While it did start fairly well before I was born, there are many my age and older who are still incredibly fond of it. Almost 30 years after its debut the series still has active fans, a new video game on the way, and an currently airing anime since 2012. I got my first taste of the series about 6 months after the first season aired, I couldn't believe what I was watching. It definitely made me a quick fan. I finally also got the opportunity to read the manga. I'm glad that I've started because I'm pretty hooked. The first arc of the whole series is known as the "Phantom Blood" arc and it is a doozy.
Volume 1 starts off in the distant past with an Aztec sacrificial ritual. The head priest sacrifices a woman, uses her blood on a mask he's wearing, and he becomes something else. At this point it's not entirely clear. Time now skips forward to the 19th century, the location, London. Here we see a scene of a man on his death bed with his young son. This is where we actually meet the series first antagonist, the notorious Dio Brando. Apparently, several years before Dio was born his father saved a nobleman by the surname Joestar from a carriage accident. On his deathbed, he wishes to send Dio to live with the Joestars and get an education that he can't get with his current life. After spitting on his father's grave, he arrives at the Joestar mansion where he is welcomed by Jonathon and his father. We learn where the series name sake comes from, as Jonathon is referred to as JoJo because of his first and last name, a theme that continues throughout most of the series. Dio basically reveals he is downright evil right off the bat, and through the entirety of the first volume Dio commits some outright heinous acts, all in an effort to break Jojo's spirit and mind. However, Jojo has a valiant heart however, and near the epitome of innocence and kindheartedness. He holds steadfast in spite of Dio's wickedness.There is also a bit of intrigue around a stone mask that, to no ones shock, is an Aztec mask of mysterious function. This mask is not just any macguffin. This mask holds a secret that brings the end of the volume 1 into a wicked cliffhanger.  I felt the story is a tad slow for this first volume, but I simply cannot deny the intrigue that Araki has established.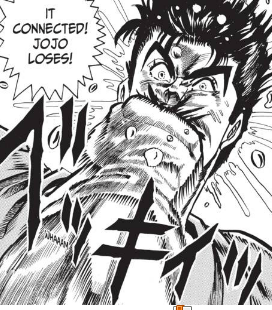 Jojo's also has a very strong sense of its own style, not just from a story telling perspective, but from an art style perspective. I have a lot of respect for creators who take their time and work on multiple parts of  their productions. Araki has a very interesting art style. I can pick his work out of a crowd pretty easily. In truth, I have a hard time describing it. There a few word that come to mind, but I almost feel that the words alone do not quite give it the proper praise. For one, his art work is very kinetic. It has a sense of motion, prideful almost in some ways. Araki's art style also has a very strong emphasis on muscles and jaw lines. There have been times when I've read other manga or watched anime where this has been done and it can be rather jarring. Jojo's has a proper balance with this and avoids that particular snare. The art is also very detailed, so there's only praise I can generally give it.
I'm going to dig very thoroughly through the next few volumes. If you're looking for a dose of nostalgia, or even looking for something that is entirely different, giver Jojo's Bizarre Adventure Volume 1 a shot.
Maximillian Ringgenberg
A man of many words and many color related dilemmas. Based in Tucson, Arizona Maximillian is a total anime nerd, gamer and fighting game enthusist. He loves watching a good anime on a lazy saturday and is proud to be part of the CFG crew.
---
---
Related Articles
Star-Lord & Nova vs. Thanos!!! This September, the truth behind Nova, Star-Lord and Thanos' disappearance continues in GUARDIANS OF THE
When a person goes to Anime Expo, there is one constant that you would expect to see. That constant is
Celebrate the First Ever College Football Playoff With Your Favorite Marvel Comics! This January, ESPN will host the first ever