Story by: R.J. Ryan
Art by: David Marquez
Colours by: Kelly Fitzpatrick
Letters by: Jon Adams
Published by: Archaia
Welcome to the future, today! Welcome to "Family, narcissism, science" as the cover announces. Welcome, too, to murder! Ah, that spiked your interest. That's the hook that R.J.Ryan uses to foreshadow the entire issue – without it being laid out in a handy prologue the remaining story would be rather flat, as the writer has gone for hints and teases the reader, without any subsequent dramatic impetus to provide the narrative with energy.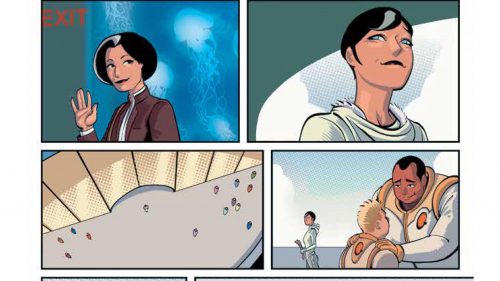 One flaw in the book is an occasional habit of over-subscribing speech bubbles. This harms the book. There is a general maximum number of words per speech bubble and if this value is exceeded, which does happen, you have to ensure that what your character is saying has sufficient punch to keep the reader in their thrall. This doesn't happen in the Joyners, and one bloated speech bubble too many is a distraction that the story doesn't need. The dialogue in this section could easily be snipped into something more effective – without losing any of the message the writer is trying to impart. This is an issue for both the writer and, more importantly, the editor. It should have been caught and remedied before the book made it to print.
One area where the book scores well is the art, by David Marquez. The stylized approach – somewhat similar to the excellent artwork by Elsa Charretier in the Infinite Loop – is very effective and is very easy on the eye. While the story is a somewhat pedestrian affair, Marquez's work makes the gentle amble visually appealing.
Had the story had more vigor and the dialogue suffered from less bloating, the first installment of The Joyners could easily have been a more worthwhile endeavor. The slow burn of the narrative, hampered by some poor dialogue, detracts from the story. The characters are well rendered, they are convincing constructs, but there isn't enough happening to fully engage the reader. While this is the opening gambit in a 4 part mini-series the follow up issue will need to cover some serious ground to make something of The Joyners. As it is we have style but not enough substance.