Story by: Jackson Lanzing & Collin Kelly
Art by: Marcus To
Colors by: Irma Knivila
Letters by: Jim Campbell
Published by: Boom! Studios
Joyride #3: Stuck in Space! So begins the latest installment of the joyriding teens lost in space. The unusual trio find themselves in a quarantine zone with some deadly surprises in store. None so deadly as the impromptu dance scene involving the majority of the ships crew – with one member abstaining on the grounds of self-respect.
As is usual with Joyride, our intrepid explorers stumble quickly upon moments of high drama, which provides the impetus for the issue. The initial drama encountered has enough energy to sustain the remaining elements of the story until the culmination of the issue. With this issue, we have a bookended segments that looms across the entire book, one that overshadows the central protagonists.
Joyride seems quite a polished book in terms of the art of Marcus To – the characters are nicely designed and consistently rendered. The sci-fi tech elements are well put together, from the robot to the alien crew member. Marcus manages the dramatic elements as well as the aforementioned dance element – it's worth noting that the actual dance scene was done sufficiently well to convey an authentic vibe.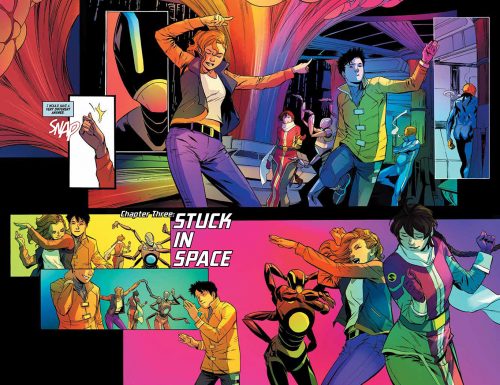 The writing from Lanzing and Kelly is very effective in this issue. The character development progresses nicely and the plot/pace is well handled with enough energy to sustain the reader through the full issue. The lead character does seem to be mentally unhinged though – whether this is intentional or not, it does appear a flaw. Likewise, the discord within the group doesn't seem visceral enough – when you consider the mix of characters there would/should be more combustion especially with the crazy attitude of Uma.
As a science fiction tale, Joyride doesn't take itself too seriously, there are some nice elements mixed in with the dramatic impetus. While we're now into the 3rd movement of the story it is time for the story to really push on now. We know the characters, their cruise through space has been a rolling adventure, but now we need something more.