Written by: Duane Swierczynski
Art by: Steve Scott & Mark Torres
Published by: IDW Publishing
Fugitive Judge Joseph Dredd is on the run and hunting justice. Don't worry too much, this is the roughest, toughest Judge that's ever wielded a Lawgiver. Duane Swierczynski has been a steady hand with his Dredd scripts, the stories have worked well and Duane has treated Dredd with respect. This issue starts out in spectacular fashion, with a double cross during a face off with Dredd and a team of pursuing Judges. Following on from a Dredd-lite issue 25, where the character Dubbie Cruz was brought to the fore, we are back into full paced Dredd joy. The tempo of the issue is set from the off and, like all good comics, the flow of the pages becomes a blur as we reach the conclusion.
In terms of the creative aspects of the story, this issue evolves nicely. Dredd and Anderson combine well, while Dredd has to battle with his instincts. The main villain of the piece, Cal, becomes something more than had been previously shown. With the assembled opposition arrayed against Dredd, the level of threat, the combined forces at play, provide a fitting backdrop for him to play out his stubborn, seemingly insane quest for justice – but this is Dredd, and he is very difficult to dissuade from his pursuit of the law. The culminating third of the book delivers a fitting twist, while pitting Dredd into a life or death situation.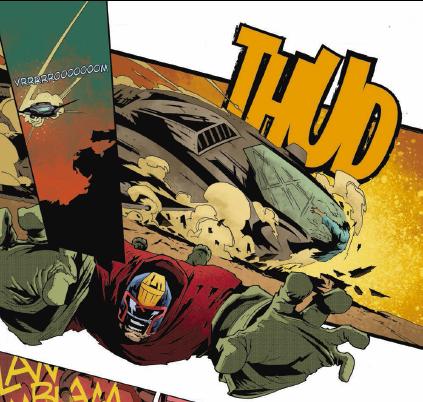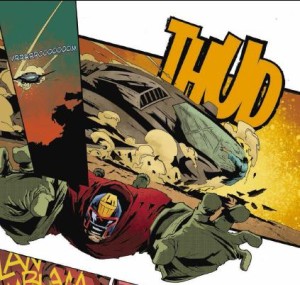 The art for the issue is, in places, quite pleasing – the opening scene is well illustrated. There are a couple of panels that don't quite match the overall quality, though the vast majority are of an acceptable quality. With the series firmly on track with this issue, with the nicely handled development of the overall ongoing plot, expectation for an entertaining closure for this story arc. It is nice to see that the character of Cal has evolved to something worthy of offering Dredd a worthy opponent. Will #27 satisfy the set up that Swierczynski has wrought here or will the pace and plot drop?