Story by: Duane Swierczynski
Art by: Nelson Daniel
Lettered by: Shawn Lee
Published by: IDW Publications
Judge Dredd: Crowd Control part 1. Kicking off this issue is a splendid opening section, one that sets the scene perfectly for the book and, to be perfectly honest, it's quite a fun opener. The back story to #29 involves the recent story lines of the Deadeye illness and this is mixed with G.O.D. – which is a delightful concept: Mega City One is under attack… from GOD!
The visuals in the early phase of the issue are solid – though Dredd does look a little off – however, the deliciously murderous robots more than make up for a few minor blips from Nelson Daniel.
In terms of the plot for the issue, the emerging storyline is compelling enough, along with some loose ends from the recent story arc involving Chief Judge Cal. Duane Swierczynski is well versed in producing sequential stories to almost type these out as well paced adventures in his sleep. The story rolls through the pages in the time honored tradition of comic books – there's action, there's plotting and characterization, and as the story bounces merrily along, we reach the end point – complete with the obligatory ending which lands right in a moment that you want to see what happens next.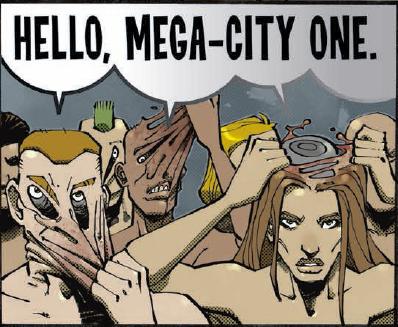 Duane is aided in this issue by the ever dependable Nelson Daniel. As usual with this series, Daniel delivers some quality pages. Some of the scenes in this book are really beautifully done. The opening phase of the book features a fabulous scene, one that mixes the surreal with horror. It works really nicely. Not all of the book is that visually interesting, there are one or two minor slips in the quality, but there are also some really nice panels along the way. Duane has a number of different threads to manage with Judge Dredd, and in this issue, each different plot strand is played out faultlessly. The energy is nicely managed, so that as you read your interest levels don't lag. So far so good with part one of Crowd Control – it will be interesting to see how Duane follows up on this issue!