Story by: Peter Hogan
Art by: Phil Winslade & Staz Johnson
Colours by: Douglas Sirois & Staz Johnson
Published by: Dark Horse Comics
Welcome to the world of King's Road – a Dark Horse limited series featuring 'Swords, sorcery and… suburbia' – that's right, we have noble heroes mixing it up with demonic beasties amidst the mall and SUV's. There's the enigmatic hero, the damsel in distress, the wicked witch, along with murder most foul and a pack of evil creatures invading suburban North America for the prize scalp of an exiled Prince and his 2.4 situation. What epic/domestic tale would be complete without bows, swords and magic – along with a talking dog?
King's Road doesn't waste any time setting the scene – from page one onwards we are in the thick of the action – with the requisite breaks for occasional exposition.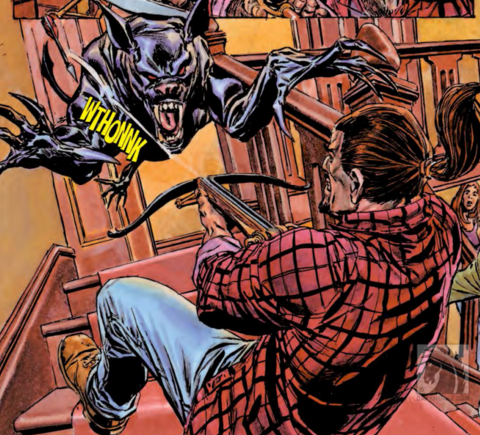 The setup of the story is routine enough, introducing the characters happens almost incidentally along with the action, which helps keep the pace brisk without skimping on necessary details. In terms of the target audience of this book the level of peril and violence doesn't preclude younger readers. The dialogue is similarly all inclusive – which doesn't detract from the tone of the story.
Helping the pace of the book is the art of Phil Winslade and Staz Johnson, which is perfectly serviceable in terms of panel composition. Some of the anatomy could be tighter. The colours do feel a little off – the humans early on suffer with a somewhat patchy look.
The King's Road does fizz along nicely as a tale, there is the requisite shock to close out the issue, but when you read the book it doesn't feel like 48 pages of comic. The mix of swords, sorcery and suburbia makes for an entertaining culture clash, with the minor peril and dastardly treachery providing enough impetus to the story to keep you sufficiently hooked while the tale plays out. There is enough in this first installment to suggest that the remaining two books of the King's Road will skip along in a timely fashion. With a good pace to the story the King's Road #1 makes for an entertaining book, while it doesn't risk breaking new ground in terms of the medium of comics.