Loki Agents Of Asgard #5
Marvel Comics 2014
Writer by Al Ewing
Artist by Lee Garbett
Colors by Nolan Woodard
Let me just start off by saying, this comic has been far more interesting then I had originally anticipated.  The first three issues were a build but kept my interest enough to keep going and then, the ending of four…. talk about a clincher! Issue 5 did not leave me disappointed.  I was a little worried the only reason this comic was released was due to the influx of Loki fans due to the films and thought it would just be fan service.  Lets not lie, it is a bit fan service but the plot is starting to out weigh his prissy teenage heart throb motif.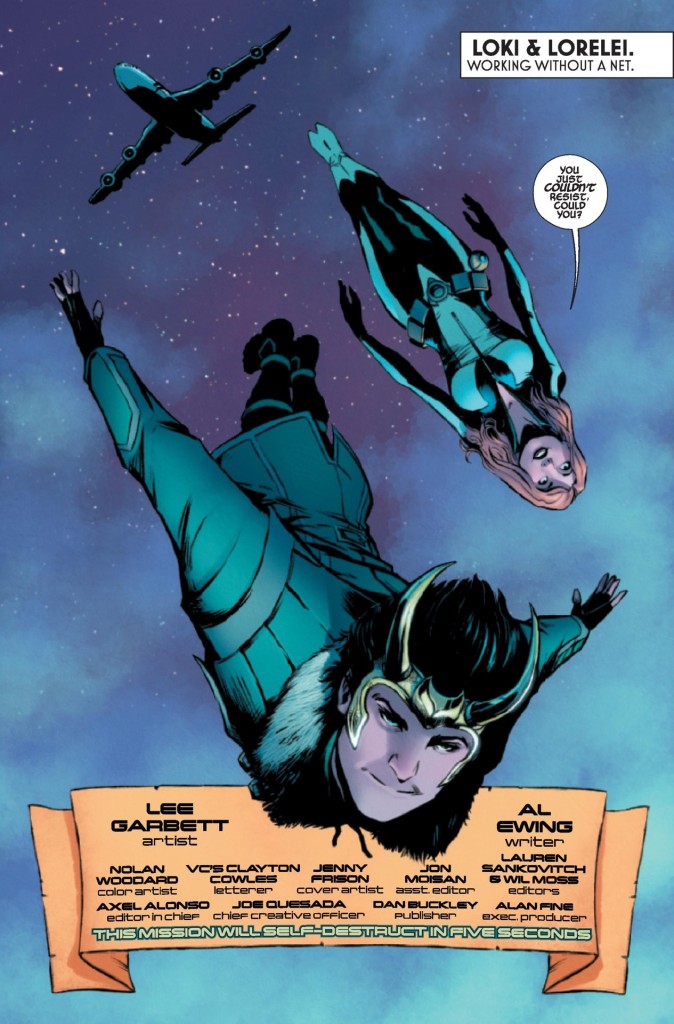 With his new team of Asgardian's and human lie detector, the Agents set out to break into the most guarded prison to rescue their newest teammate Sigurd. In order to slip past Heimdall  (Watchman of the Gods), Thor creates a rather epic distraction so allow Loki and Lorelei to land on Pre-Roxxon Broxton. They are then confronted with a room full of deadly traps which  Verity Willis (Human Lie detector) makes easy work of dismissing. And thus the final obstacle.  We also learn that Loki can't change his shape as he could before, meaning his powers are sub par compared to the elder version that is lurking about. Come to find out Sigurd wasn't the real reason  they were there. DUN DUN DUN! You'll have to read it to find out what happens next. No spoilers here!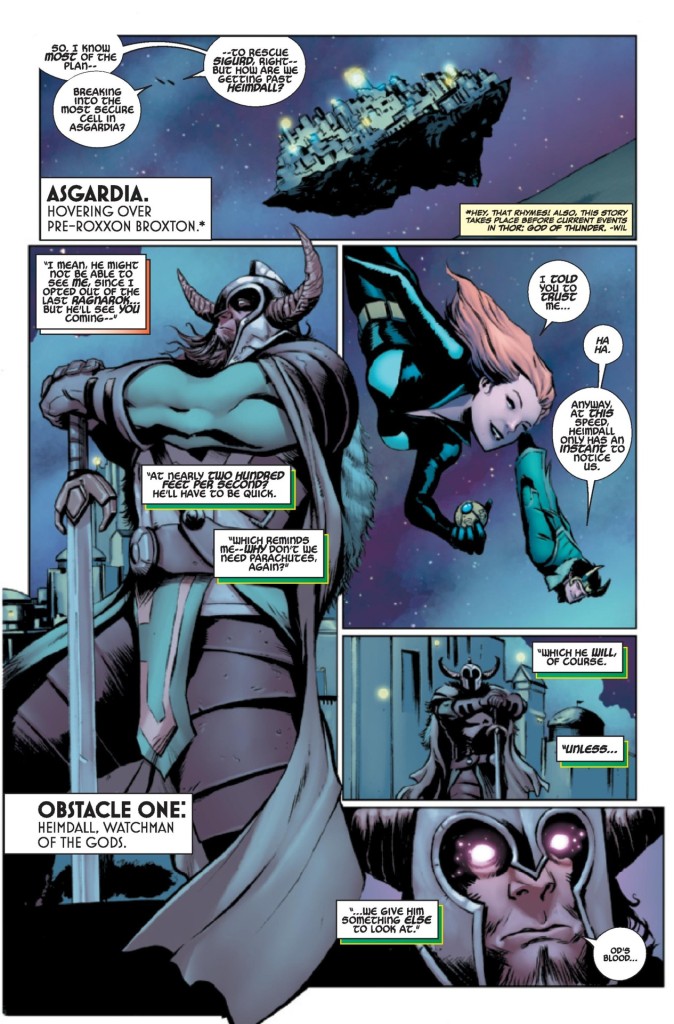 The ending was a good way to lead readers into the Original Sin's story line that is currently taking the Marvelverse by storm. (If you want to continue this story be sure to pick up  Original Sin: Thor &Loki – the tenth realm #1 on 7/9/14!) I do not want to give away the big surprise  but know its a confrontation you won't want to miss out on!  And I'll give you a hint, old sin's are being brought to the surface and we find our young Loki suffering an identity crisis.
I really enjoyed this take on Loki, but then I'm a sucker for a good redemption story.  The teen is desperate to do good in the eyes of others that he goes behind the All Mother's back to get to the bottom of her scheme.  In doing so, he finds something much more mischievous.  The pacing was good, the build up was interesting and the ending certainly delivered. Its also kind of nice that all of the characters have a more modern speech instead of the Asgardian drawl.  Don't get me wrong, it fits Thor and all but I'm grateful. Though the script is always beautiful to look at and really suits the style.
Speaking of style, the covers of  AoA have always been spectacular but THAT COVER!  Its just so…amazing!  It was the first thing that caught my eye as I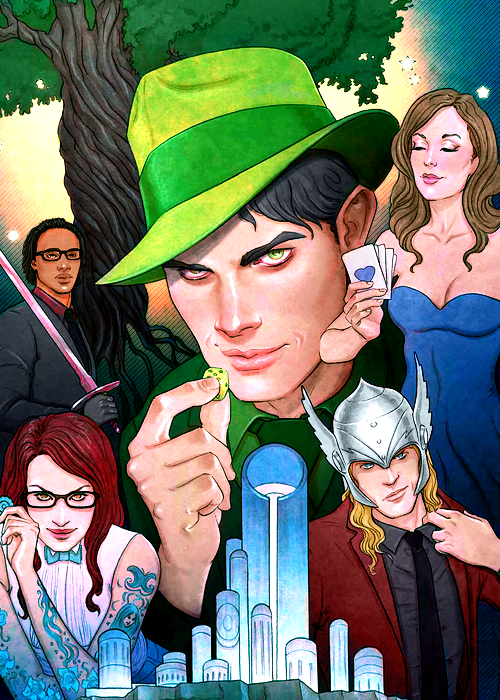 walked into the shop. (Granted I was looking for it.)  I just can't get over that Vegas mobster look of it, and I think I need it on my wall.   The inside art is fantastic as always but the cover is absolutely flawless.
And now for the not so great, nothing is perfect after all.  I do feel this particular comic is a bit teenage angst. But as I've learned with "Journey into the Mystery" the story can turn dark fairly quickly. But compared to previous Loki stories, its a bit too playful.
Overall Score: 
8 out of 10