Developed by I-Inferno
Published by PM Studio
Reviewed on Switch (also available on PlayStation 4, and Vita)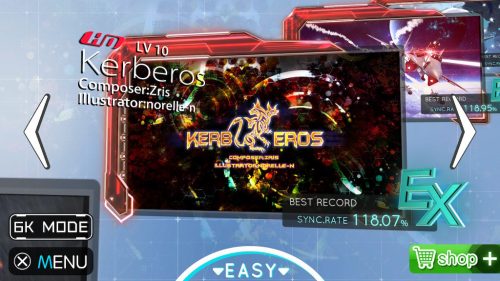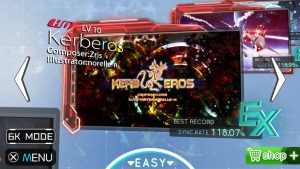 The Nintendo Switch is one of the most versatile platform for playing games on the go or from the comfort of your own couch. As the Switch gains momentum each day, it is quickly becoming the place to release games. PM Studio was aware of this with the release of Voez on the Switch back in 2017. Now PM Studios is back again with MUSYNX from Chinese developer I-Inferno. The game was first available on Android, iOS, and PS Mobile as MUSYNC back in 2014 with aesthetic similar to PM Studios' popular DJMax series. Now that some time has passed since the game's original release and with the Switch selling well as a hybrid handheld and home console, t makes plenty of sense to bring to MUSYNC to the Switch with a revised title, MUSYNX.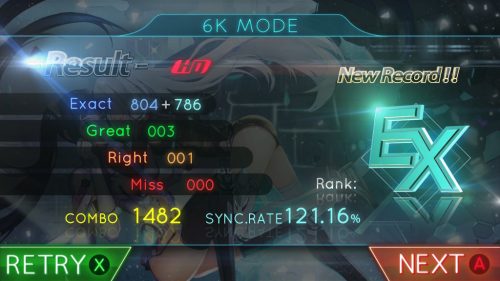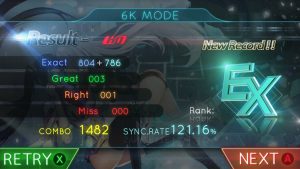 MUSYNX is a very straight forward, traditional lane-based music rhythm game. There are two modes of gameplay being either 4K mode or 6K mode. In 4K mode, controls are left and up on D-pad and A and X on the face buttons. In 6K mode, controls are the same just adding right on the D-pad and Y on the face button as inputs. As for difficulty levels, there are only two as well: Easy and Hard. MUSYNX feature a meaty 92 songs along with free DLC songs in the future.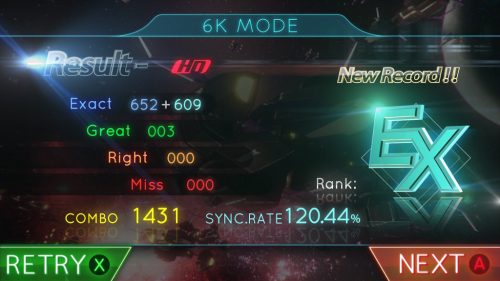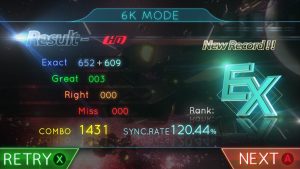 As much fun as MUSYNX is to play, it does come with a few flaws. They aren't really anything game breaking but there's room little improvements that can make it a better rhythm game. These are features that most rhythm gamers have grown familiar with from other series such as DJMax or Konami's Beatmania IIDX series. The first major complaint I have with the game is that you can't use your favorite skin theme across all songs in the game. When you go through the songlist, certain songs are grouped together and have a certain theme attached to them that you're force to use. One theme is a bright rainbow themed lane where the notes are colorful. This end up being more of a distraction causing you to lose focus and not get the highest score you possibly can. Another theme is just pure white, which in my eyes is just too bright and strains my eyes after a few plays within that theme. The 8-bit chiptune songs are fun and cool sounding but have the worst theme. Personally, I just cant play them because the 8-bit inspired visuals are distracting. 
The second big complaint is that you can't categorize the song list. It would be nice to break down song by alphabetical order or themes since you're force to play them. It'd also be nice to sort them out by music genre as there 92 songs in the game. It's a lot of scrolling just to get to your favorite songs. There are only two difficulty levels in the game ranging from level 1 to 10. Adding two more difficulties in the harder levels would add a more challenging factor for skilled players to stand out apart from less skilled players. Almost every note chart goes perfectly with the song your playing. There are a few songs that just aren't as intuitive for getting Exact hits with the Pro controller or Joy-Con as other songs are.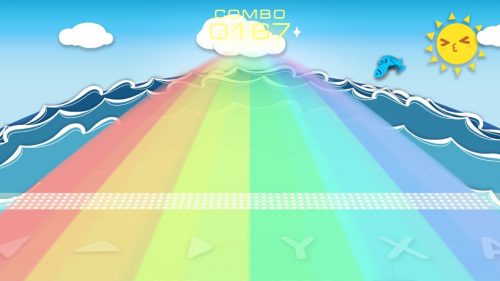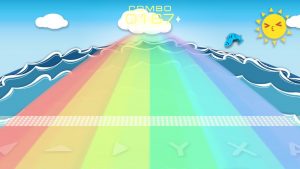 As stated before, MUSYNX is a solid, very straightforward rhythm game that's super fun to play with tons of songs, great music, awesome visuals, and great art work. I just can't say it's the ultimate music game all rhythm gamers will love as it still has flaws that can be improved upon.  Other music games make it look and feel like a basic rhythm game since its missing key features most expect out of a rhythm game in 2018.