Nex Machina Review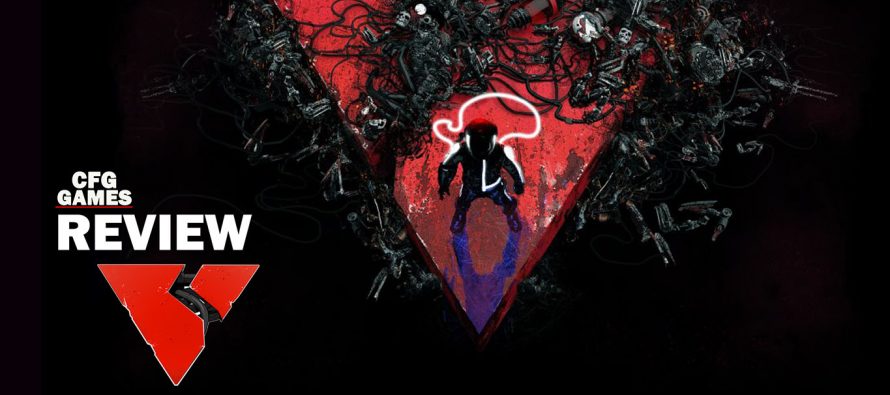 Developed by Housemarque
Publisher Housemarque
Reviewed on PlayStation 4 (also available on Steam)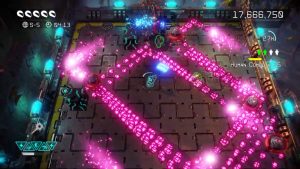 The current kings of flashy twin-stick shooters, Housemarque, are back to push the limits of your console and your capacity to spend minutes not blinking in their latest title, Nex Machina. Frantic twitch-shooting, careful planning, and well-timed dodges are paired with hordes of robots, dozens of damsels in distress, and distressing boss fights.
Nex Machina excels at scratching that difficult-to-reach completionist itch; as you progress through each world you'll find secret levels, collectable humans, towers, chains of enemies known as visitors, and even secret bonuses for style when exiting each level. Controls are tight and responsive, a must in the twin-stick shooter genre. The sense of self-challenge delivered is also extended to the in-game "feats" list, such as rescuing 5000 humans, defeating bosses with dash attacks, and beating the game without dying. This promises hours of replay even on low difficulties.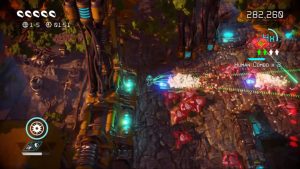 As with Housemarque's previous titles, Nex Machina is overflowing with this vibrant color-saturated world that explodes into voxels, an artstyle that pops with every action. This title carefully treads the line between subdued and outspoken with its style, just barely avoiding overdosing on a clutter of visuals that can make the game harder than it should be – that is, until you beat a boss and the entire screen is covered with a glorified dump truck of voxel explosions.
Audibly, Nex Machina feels like a comfortable mix between synth-poppy Hotline Miami and Deus Ex; it's a proto-electro funk with ambient tones of despair on the horizon. Every death, power up, and dash feels satisfying because of the accompanying sound effects and drizzle of music all meshes comfortably. There is an audio feedback for meeting level objectives or increasing your score multiplier that feels out of place in the grand scheme of things, but you soon learn that the slightly-feminine voice clashing with the tunes helps you notice it better.
Overview
Nex Machina is a title that succeeds very well at bringing satisfying twin-stick gameplay in both large and piecemeal portions. My only issue is the story is nearly absent, minus context clues.
---
---
Related Articles
Developed by Spiders Published by Focus Home Interactive Reviewed on PlayStation 4 GreedFall is kind of a strange melting
Developed by Taito Corporation Published by Degica Games Reviewed on Steam (also available on iOS and arcade)  Groove Coaster for
Developed by Battery Staple and Firehose Games Published by Battery Staple Reviewed on PlayStation 4 (Also available on Xbox One,