Written by: Phil Woodward & William Wismer
Art by: Jaime Martinez
Colours by: Santiago Ramos
Letters: Mindy Lopkin
Published by: Close2Immortality
From out of nowhere there comes a dark and eerie horror, one where the cover tells you of the blood on the floor, of the dark corners and dilapidated corridors. There's something wrong and that something is: Post Mortem! Written by Phil Woodward and William Wismer, #0 is a 16 page free comic which has been produced ahead of a kickstarter campaign for the production of the first in a trilogy of horror books.
The Harvesting does an admirable job of showcasing what is an effective horror story. We enter the story through the eyes of a truly unfortunate man, one strapped to a hospital table. As is the way with horror things don't exactly go well for our guy on the table.
In terms of the plot and pace, this issue is a very effective introduction to this new publisher. The book draws the reader in and makes you want more – but this is a proper horror title. It is raw, it is gruesome.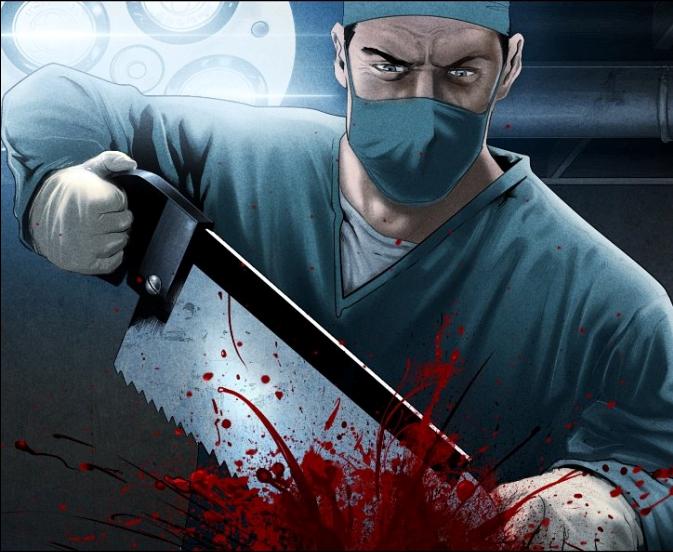 The art for Post Mortem comes from Jaime Martinez and Santiago Ramos – from the from cover to the last page of the book the art is sumptuous. There's blood, gore, graphic surgery – and it is bloody beautiful. The setting is perfectly set up as the backdrop to the story, the action is believable and the characters are well illustrated. Given the mantra of 2000AD, of making each panel interesting visually, Jaime seems to have kept that in mind.
Post Mortem: The Harvesting is a an alarm call. The production values are easily equal to that of a major publisher – the attention to detail, the writing and art, along with colours, letters and product design, all speak well of the creators. If this book is anything to go by Post Mortem's next outing will be something to keep a watch for. So far, so very good!