Story by: Dan Abnett
Art by: Andrea Mutti
Colours by: Rain Beredo
Lettering by: Michael Heisler
Published by: Dark Horse Comics
Here we have The first issue in Dark Horse Comic's alien inspired mini-series: Prometheus – Life & Death. Given the extensive history of the Alien franchise there are a number of aspects that you anticipate with the story. Aside from the backdrop of space exploration and the standard 'drama involving malevolent creatures', there should be tension of some form. In this 'Life & Death' series of short form stories, we have the seemingly ever present Predators popping up.
We have a basic scenario of an alien ship being escorted back to Ganymede Station for inspection. A human crew are aboard the alien vessel but they have zero communication with their escort ship, the USCM Hasdrubal. This story picks up with the remnants of an incident on the alien craft that left one of the marine's dead.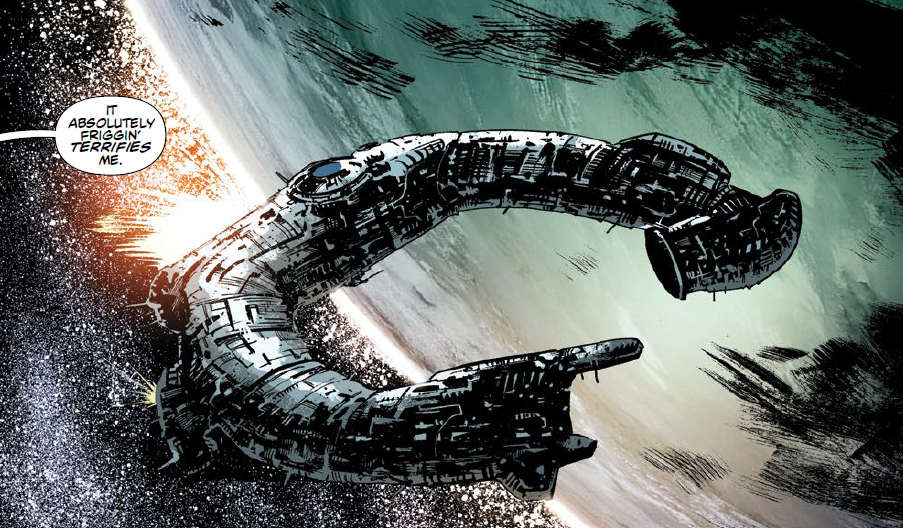 The story is written by Dan Abnett with art by Andrea Mutti. The framework of the book follows a natural chronology, with the differing elements laid out along the way – setting up the situation for the characters and populating the pages with the characters. As is expected with Abnett, the bases are easily covered without feeling forced or rushed. The pace is managed to build into the key conflict that drives the book. This doesn't happen for quite a few pages of the book but that's fine, the set up shows patience and that blends in with the pervading suspense that is natural to the original cinematic franchise.
The art of Andrea Mutti is effective, there are a few rough edges but nothing that particularly jars or detracts from the story. Mutti suitably renders the technology and characters allowing the story to flow.
As the issue draws to a fitting conclusion, we are left with an effective entry into the Alien pantheon of stories. Abnett delivers his story with enough atmosphere and tension to bring the reader back for the next issue.