Developed by Sega
Published by Sega
Reviewed on Nintendo Switch, PlayStation 4, Xbox One, and Steam
With a rich twenty-seven year history, the Puyo Puyo series has featured plenty of versus blob-busting frantic puzzle action. Its line-up of colorful characters and modes has consistently provided plenty of reasons to keep playing. Although Puyo Puyo's Western legacy has been inconsistent between re-skinned games and sporadic releases, Puyo Puyo Champions allows players to easily experience the series' beloved audiovisual elements and puzzle action. While Puyo Puyo Champions is fundamentally a budget way to experience Puyo's versus modes, it marvelously encapsulates Puyo's rich history of characters, catchy tunes, and frantic mechanics.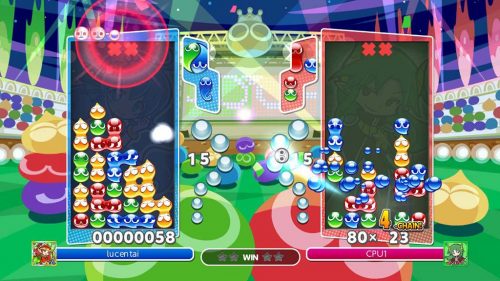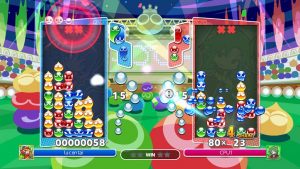 Puyo Puyo Champions' mechanics fundamentally follow the simple flow of earlier Puyo Puyo games. Each player clears groups of four or more matching Puyos in order to send nuisance Puyos to opponents' playfields. These nuisance Puyos fall onto playfields, which impedes players' ability to clear actual Puyos. A player wins once their opponents reach the top of their playfields. The complexity involves detonating chains of successive clears in order to score more damage. The flow of building more complex set-ups and creating larger chains keeps every match exciting as players strive to out-do their opponents and disrupt their ability to clear Puyos. Puyo Puyo Champions focuses on the two renowned rulesets from Puyo Puyo 2 and Puyo Puyo Fever. Puyo Puyo 2 provides the tried-and-true standard ruleset that is still played even today, and Puyo Puyo Fever rewards players with the over-the-top Fever Mode after they counter incoming garbage.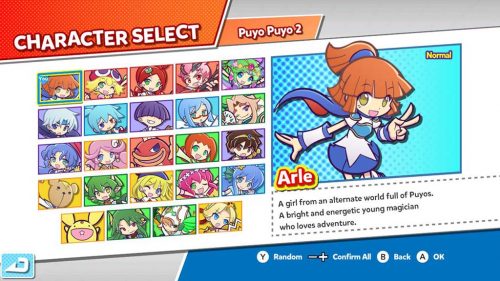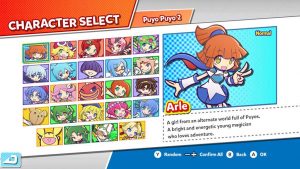 The game's comprehensive and customizable features meaningfully enhance both solo and multiplayer action. Players can set up two to four player matches offline and online, and the tournament mode allows players to create a local bracket for up to eight players. The online functionality includes ranked matches and free play lobbies, and the matchmaking system generally finds more balanced matches than in Puyo Puyo Tetris. As in previous games, players can choose between one of five handicap settings which affects the number of Puyo colors and even changes playfield elements.
One new element is the Comeback Assist, which gives the losing player an opportunity to score additional early damage in the next round. All Puyo skins are immediately available, which range from traditional Puyo design to off-the-wall symbols. One of the most prominent features is the in-depth replay system, which automatically creates timestamps of important moments during each match. Players can pick a timestamp and immediately jump to that point of the match, which is incredibly helpful for learning purposes. Players can also download others' replays from an ever-changing online library, which gives players even more resources to learn.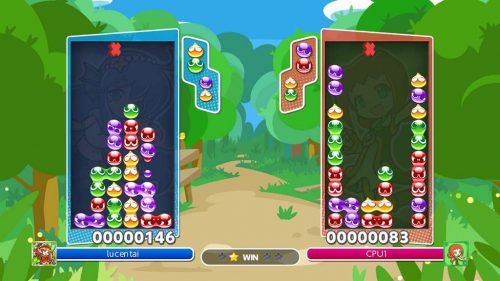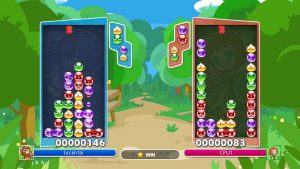 Puyo Puyo Champions wonderfully represents the series' legacy from the very beginning to the present day. The game continues the series' tradition of featuring saturated colors, dynamic cut-ins, upbeat tunes, and chirpy vocal performances upon clearing Puyos. Players can pick from a varied range of characters that draw from Puyo Puyo and 2, Puyo Puyo Fever and 2, Puyo Puyo 7, Puyo Puyo Chronicle, and the mobile title Puyo Puyo Quest. However, the comprehensive avatar customization spans all of Puyo's legacy, which includes options from Puyo Puyo Sun, Puyo Puyo~n, and a whole slew of Puyo Quest characters.
The game features over forty selectable music tracks, which include a few new tracks as well as returning arranges of previous games' tracks. The selectable backgrounds include a vast vibrant range of locales that include outer space, cities, natural areas, and a brand new eSports Arena. While much of the game's user interface generally resembles that of Puyo Puyo Tetris, these elements are still dynamic, pleasing, and functional even years after the fact. Puyo Puyo Champions also includes dual English and Japanese audio, which is a welcome inclusion. Puyo Puyo Tetris' English voice actors reprise their respective characters, and the new recordings are just as appropriate if a bit more subdued this time around. Hearing the classic characters Serilly, Harpy, and Ragnus in English for the first time is a fun treat for series veterans.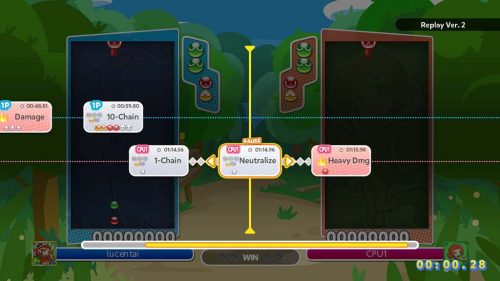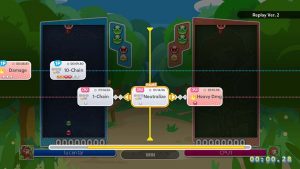 Although Puyo Puyo Champions' bells and whistles are more than welcome, a few aspects may detract from some players' experience. Without traditional arcade and story modes, the game's single-player content solely involves playing against computer opponents in standard versus matches. We hope that the time attack and score attack modes available in the Japanese version will come to Champions at some point. The Xbox One version's leaderboards are limited as they can only display the top 20 worldwide players and friends, which is different from the other versions' multitude of options. Not being able to see regional leaderboards in the Xbox One version is slightly unfortunate, and its current lack of downloadable replays is a bit of a downer as well. Puyo Puyo Champions autosaves replays by default which is helpful, but the fifty match storage can fill up incredibly quickly after playing local and online matches for a little while. The game universally performs smoothly across all four platforms, but the Steam version can be a bit quirky with V-Sync enabled.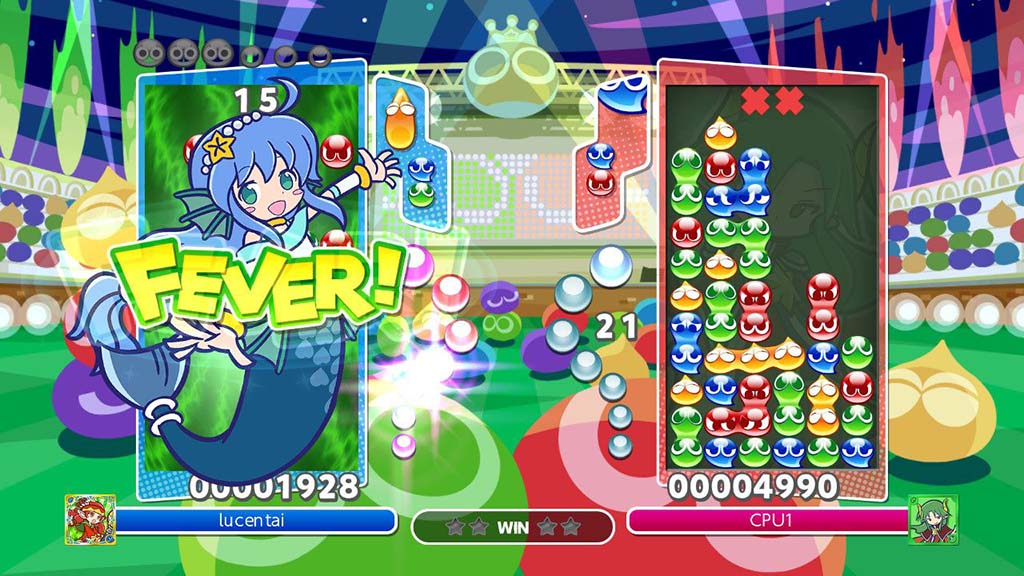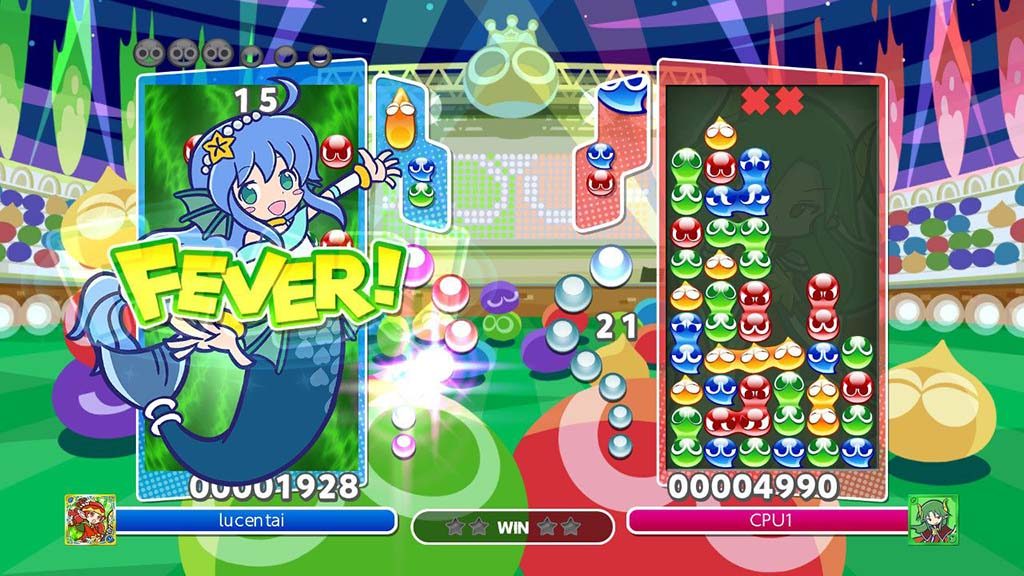 While Puyo Puyo Champions sticks to the core mechanics of previous games, it provides a wonderful way to experience the series' legacy and play against others on current platforms. Although the interface resembles that of Puyo Puyo Tetris, the game provides a more Puyo-centric experience replete with plenty of references to other games. The game's physics also resemble those of earlier Puyo games, which is great for those seeking a core Puyo experience after playing Puyo Puyo Tetris. Anyone remotely interested in versus puzzle action will undoubtedly enjoy Puyo Puyo Champions, and it is a wonderful way to revisit Puyo or experience it for the first time.