Sex Criminals #4: Sex Police review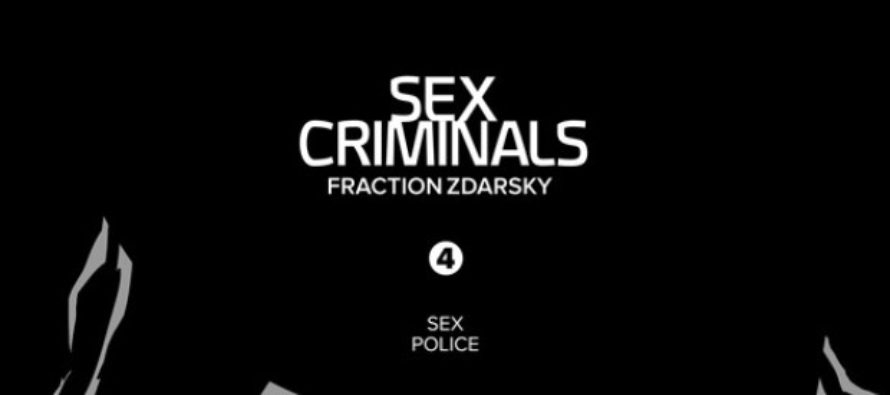 One of the most popular current independent comics around released their fourth installment. Sex Criminals so far has a bunch of laughs, flashbacks, a ton of dirty jokes, and character growth. In the fourth issue, the story is coming together to a point that makes it intriguing to read.
Where they last left us, Suzie and Jon were robbing the bank Jon worked in. Unfortunately for them, 3 mysterious people dressed in white are there to stop them in The Quiet.  After a brief skirmish, the story back tracks prior to the robbery and gives you more of the details of the main storyline. Matt Fraction is amazing on how he lets the reader in on the story bit by bit. I am personally not a fan of flashbacks in a story (especially as frequent as this story) but, Fraction strategically place these points in the story so you dont feel like you are backtracking or, you do not feel its a footnote to know what is going on. One of my favorite things Fraction does in this book (and in all of the books) is the playful humor with the characters. There are multiple instances in the story where you see Suzie and Jon are silly. One of my favorite parts in this issue was where Jon, the nerd with glasses, will surprise the reader showing that he has a backbone and stands up for himself but then, immediately goes back to his regular geeky self.
The art from Chip Zdarsky is simplistic but yet, it goes well with the story. With mostly solid colors and base tones, Zdarsky sets the playful mood perfectly in this story. In the scenes of "The Quiet", There are so many lens flares, I feel like I am watching a J.J Abrams movie!

If you are not reading Sex Criminals, you are missing this hidden treasure. With the great writing, Fraction successfully made you care for the the anti heroes in this story. Its great when a writer writes about an average Joe and tries to stick it to the man (and in this case, I mean literally). This is a must have book
Overall Score:
7/10
Davies Green
One of the original founders of the CFG. Big nerd who is a fan of geeky pop culture and wants to share it with everyone.
---
Related Articles
Written: David Tipton & Scott Tipton Art & Colors: J.K. Woodward Publisher: IDW Publishing Playing off the original Star
Grimm Fairy Tales #101   Writer: Pat Shand Art: Andrea Meloni Publisher: Zenescope Welcome, once again, to Grimm. Zenescope's
Superman Wonder Woman #5 DC Comics Written by Charles Soule Art by Tony S. Daniel We find ourselves catching up