Written by: Jon Schnepp
Art by: Guiu Vilanova
Published by: Dark Horse Comics
Slayer #1 is the starting point to a particularly relevant tale given the time in which the book is emerging. The tale centers around diametrically opposed brothers: Wyatt and Adrian. Their once close common ground has been twisted, subverted, into a familial hatred along race lines. Throw in the far right, white supremacism, and you already have one hell of a powder keg in terms of explosive drama.
The book starts out with blood and while this blood is spilt in melodrama, it soon leads to the introduction of the Swastika and the division of the brothers. This book is heavy on the white supremacist characterization – thankfully, the writer has managed to avoid stereotyping them as being stupid thugs. Rather, they are painted as being smart, insidious and every bit as vile as their real world counterparts. The concept of having a lapsed Nazi as the catalyst for the events in the book is an effective tool.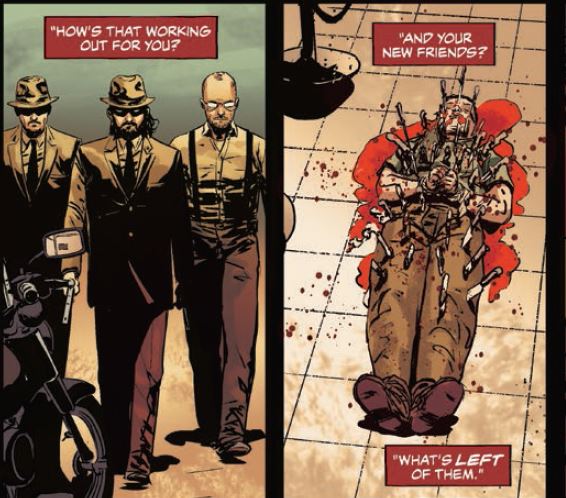 The art for Slayer #1 works very nicely, and handles the kinetic violence smoothly. Where the action turns to the more normal human of interactions the artist manages to switch gears without a misstep. There is high drama amid the brutality, and this is blended well into the action.
The only area that this book has any real problems is that there are sections where the narrative jumps, and this disjointed feel breaks in on the reader at times. While it is important to be able to progress a story by jumping to various parts of the story in Slayer #1, this transition technique isn't as smooth as it could be. This isn't a major problem for the narrative, but it does pull you out of the flow of the story a little.
Overall, the story is dark, harsh, and very relevant. The drama is a little too heavy at times but it all adds to the narrative – the horrors laid out for our anti-hero act to fuel his righteous rage and furious retribution. This first issue closes out with a lead off into the next installment. The scene is set for brother versus brother!