Story by: John Barber
Art by: Paolo Villlanelli
Colors by: John-Paul Bove
Letters by: Neil Uyetake
Prologue

:
Art: Chris Evenhuis
Letters: Shawn Lee
Jumping into the world of sequential art is the legendary character of Action Man – a very British soldier, here presented akin to the equally heroic super soldiers of G.I. Joe – but unlike his American counterparts, the stiff upper lipped A.M. is a solitary figure battling away for Queen and Country.
The book begins with a short prologue to cast off the previous Action Man and to usher in his replacement, a somewhat less than perfect soldier with mussed up hair and a bit of an issue with authority. This issue sets off on something of a misstep with the characterization of the central character. A flashback to his school days triggers a mistake from John Barber – in the rush to get to the meat of the book, he rushes the scene and Ian (Action Man to be) explodes in a vitriolic diatribe towards his mathematics teacher without any of the requisite setting up of the scene. Especially any aspects of frustration at the banality of lesson. This isn't indicative of the whole book though, you do feel that at times this have been rushed in terms of the plot and pace, Action Man #1 borrows heavily on the established Bond franchise. There is a similar management structure to 007, a similar quartermaster to the legendary Q, and the titular hero exhibits some similar characteristics in terms of their character.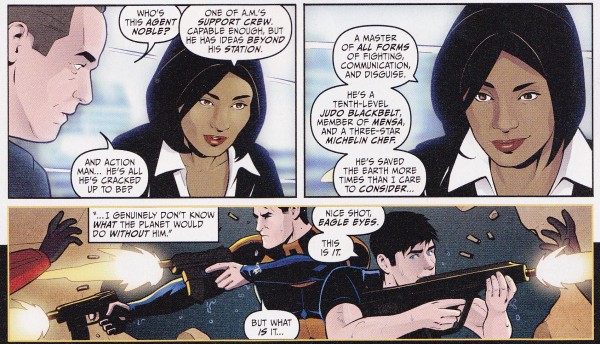 On the art for the book we have Paolo Villanelli, who illustrates the main story, while Chris Evenhuis tackles the necessary prologue. Neither Paolo nor Chris let the comic down each providing the essential fast action in suitable form – which is entirely functional for the story.
Functional seems to be the thread that runs through the book – the story, with a simmering sub-plot, does what's necessary without stretching any boundaries. Characterization and language covers the bases suitably. It's like they set the bar at a specific height and were content to stay there. Given the subject matter of the book, maybe that's perfectly fine. Action Man #1 does have some moments that are interesting, but ultimately this doesn't manage to raise the book above the contemporary titles.