ANIME IMPULSE MAKES ITS DEBUT AT THE 35th ANNUAL ASIAN AMERICAN EXPO AT THE POMONA FAIRPLEX
The first annual ANIME IMPULSE convention will be held on January 16th-17th, 2016 at the Pomona Fairplex. This event has confirmed appearances by international cosplay superstars Alodia Gosiengfiao, Ashley Gosiengfiao, and VampyBitMe to headline. Attendees will be be able to shop through original artist works, handmade vendor goods, and watch entertainment: panels, music performances, fashion runway shows, and an Itasha Car Show by some of the anime community's biggest influencers.
Die-hard anime/cosplay fans will recognize Alodia thanks to her over 5M likes on Facebook and over 300K followers on Instagram. Alodia is a world renowned cosplayer, actress, singer, and model. She has been named one of the most influential women in her native Philippines. VampyBitMe, is an American cosplayer, costumer, model, artist and internet personality. According to Kotaku in 2012, "Linda is a cosplay machine, renowned not just for the quality of her costumes, but their variety as well". Kotaku has also previously described her and her works as "amazing". Ashley Gosiengfiao is the younger sister of Alodia and an accomplished cosplay model in her own right, as well as a talented recording artist. Together this talented trio of cosplay legends will make the Anime Impulse event not to be missed.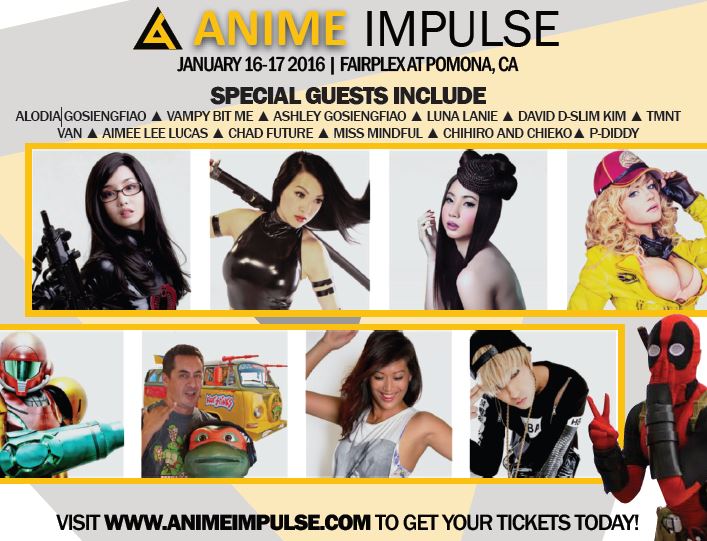 About the Asian American Expo
Founded in 1982 as a local community gathering event – the Asian American Expo has expanded to become the must attend event every January. Next year will mark the 35th annual Asian American Expo, ushing in a prosperous year of the Monkey. Bringing together people of all different cultural backgrounds, the Asian American Expo has established itself as a melding ground of all concepts. Next year's event is guaranteed to be even bigger and more expansive than last year's showing, featuring over 1,000 vendors in 6 large exhibition halls, 3 unique food courts with over 180 food vendors, and 9 non-stop performing stages. For more information and updates please check out https://animeimpulse.com/