With the amazing story telling of Marjorie Liu mixed with the beautiful fluid art of Sana Takeda, Monstress is an amazing book. For this series being Liu's first independant title, it feels that she is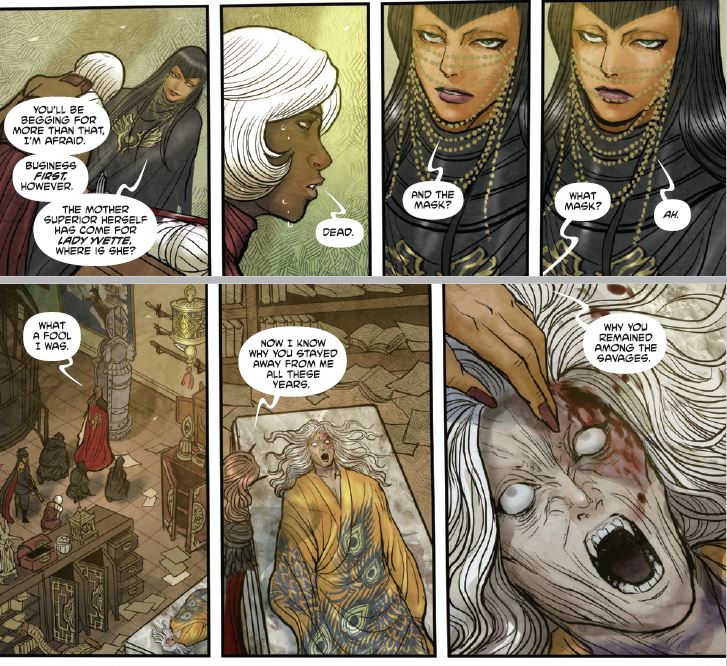 incredibly comfortable of the storytelling. In issue #2 of Monstress, the story is opening up even more. After her escape from being a slave of the Cumaea, Maika Halfwolf is in badshape and is being carried away from the capitol by an old wagon being driven by a woman with a baby. Accompanying her is another Arcaic slave girl (who is adorable by the way) and a sly talking two tailed cat. Maika is slipping in and out of consciousness and during that time, Marjorie Liu does an excellent job keeping the reader informed on what the original plan was by doing a dreamlike flashback. When Maika comes to, she is in a grizzled state, not trusting anybody, including herself (especially the cat!). There were countless times she tried to leave on her own but was being stopped by multiple events. Meanwhile, back where The Cumaea witches were attacked by Maika's fury, I secret organization reveals themselves and is investigating what happened as well as what was taken.
I would have to say that the storytelling is on point. The best part about this book is the character developments. I cannot say this about everyone that reads this story but, it is hard to pin point who is in the right and who is in the wrong. There are multiple factors that can make a case on who is in the right or who is wrong. Especially for the main character, Maika Halfwolf. In the issue 1, you could not help but feel a little sorry for her. A half beast who lost an arm and is being sold in the slave trade. To come and find out that she goes in and infiltrates the Cumaea, kills one of the heads of their organization, and in book 2, reveals a very dark secret about her that would make anyone fearing their life if they were beside her. The story is putting me on the edge of my seat and making me beg for more. (And thats just the story). I cannot express how amazing the art that Sana Takeda provides in this book. The pencils mixed with earth colors does wonders for setting the mood of the story as well as the world. If this book had no text in it, it would still be just as amazing. 
This book may have come in near the end of the year, but it is definitely a top contender of book of the year! This is a must have!