Superman: American Alien #3
Superman Evolved Once Again
Max Landis is killing it with his adaption of Superman in his latest issue, Superman: American Alien #3. This time, Landis gets the help of the amazing Joelle Jones (Lady Killer). The journey of Superman's psyche continues on in this issue. This time, the story feels like a spring break story you would tell your best friend in full private confidence! Clark gets a rare chance for him to leave Smallville for a short bit and have some fun. That fun turns into panic when his plane goes down, but we all know that would not stop the man of steel! He saves the pilot and is briefly marooned until he sees a giant yacht. Little does he know that the yacht is owned by Oliver Queen and a bunch of drunken college students are on board having the time of their lives. Being a little uncomfortable, Clark is shelled off until he meets a girl who gives him some classic spring break advice. I refuse to spoil this book for you so you are going to have to check it out. From the start, you would not expect a life lesson out of this but, you will surprised. 
Once again, Max Landis's storytelling is on point and guides you through Clark's Spring break adventure. Landis has been doing his due diligence on showing a side of Clark Kent that you have never seen before. I cannot help but think that because of these events he experienced in life, it helped create the Superman that we have always known. Some parts of this issue's story for example, like the time Clark was convinced to pretend that he is Bruce Wayne around a drunken crowd, getting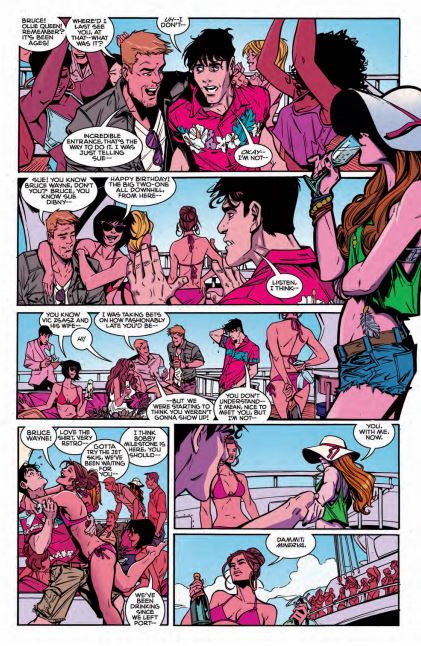 wasted, lose his virginity, etc, proves that he had a semi normal childhood. He was not a boy scout for all of his life and made some dumb mistakes. Although, that experience gave him a revalation that he carried on to adulthood. What also made this book great were the cameos! You saw an young, irresponsible Oliver Queen partying it up on the family yacht with a bunch of friends and, to my surprise, Barbara Gordon! I couldn't help laugh a little on how the circle of superheroes were being formed.  
Joelle Jones' style fit perfectly with Landis's storytelling. Her characters with dark borders works perfectly in this issue. The most important thing that she gets were facial expressions. She definitely can set the mood of a drunken party to a sensual moment!
This book is exactly what a Superman story should be. It has depth of his character as well as explains his values in a deeper sense by showing is life experiences. I am a bit shocked too. The people that know me personally knows I cannot stand Superman. This series has completely changed my mind about him. I am looking forward for the next installment!