Story By: Jason Martin
Art By: Arturo Louga/ Rafael Dantas/ Winston Young
Colored By: Magno Costa
Published By: Action Lab Comics
Before our loveable comic book nerd Katie was slicing and dicing phallic vampires that possess humans, Vampblade '98 is an origin story of how the blades were created and how the legend was made. Back in issue #10 of Vampblade, Katie is in a major pickle. She is about to get destroyed by a hoard of vampires until a strange man comes to save her. Turns out, that man was the creator of the comic book Vampblade that Katie read as a child. Skip forward to this issue, the comic book the man showed Katie in issue #10 is essentially the story that is being told now. You meet a Go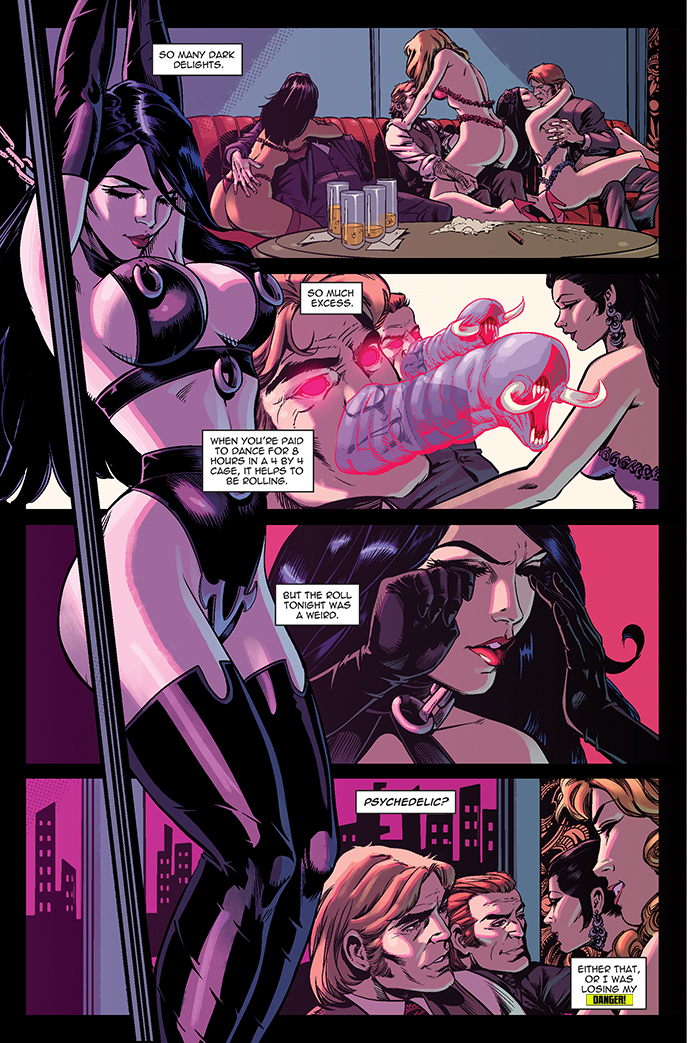 Go Dancer in the 90's that has the same kind of dress code as the blades do. One night, the dancer gets a gig at a corporate party in an evil organization called Drumpf (No kidding!). From there, the dancer was looking to get a high and talks to a man that looks like Samuel L. Jackson in Pulp Fiction. The man gives her some drugs that reveals what is really going on with the people around there and what needs to be done to stop them. 
The Story that Jason Martin sets up in this book was alright at best. The timing I feel to know about where the blades came from is slightly off but not to a point that it would disappoint a reader. Some of the references Martin and the artists put in this book makes the read very enjoyable. In my first read through of the story, I found at least 8 movie references in this book and I am sure there is more! With small pop culture references scattered in the book, it really helps a reader progress in the one shot. Not only that, but the art Arturo Louga, Rafael Dantas, Winston Young provides complements the writing. I cant help but feel why they need 3 artists to fill up this book. Art consistency in a book with multiple artists usually drags the experience. Although there was a little bit of that in Vampblade '98, the overall aesthetic was still intact. 
Overall, the book will hold you over until Season 2 of Vampblade that begins in the spring. Vampblade '98 did a great job on the nostalgia on how things were in the 90's but, lets hope that this book stays as a one shot.