Over the past couple of years, we've seen a resurgence of classic arcade games that have taken PC and consoles by storm. An overlooked arcade title with a very competitive history is Windjammers. Windjammers is a competitive frisbee battle game that is closely related to Pong. Each player will pick a character and then battle it out to score more points over your opponent. I found the original Windjammers to be highly addicting with the perfect slice of arcade gameplay that I was looking for at the time.  Well, that was 1994 and almost 30 years later we are finally getting a proper follow-up to titled Windjammers 2. This follow-up to the niche arcade title is looking to bring everything great about Windjammers into this current console generation and I think it is pretty neat. Windjammers 2 is set to be released on all major platforms and is looking to bring the high-intensity nineties action of the arcade classic to a brand new audience. Let's dig into it!
Windjammers 2 is the very soul and spirit of an arcade title. There's not much story outside of taking your character through the tournament and becoming the champion. I personally think that's fine because you're not playing this game for the story, what you're playing for is the non-stop crisp action of the title. There are a total of 10 playable characters that you can take through both single-player mode and multiplayer mode.  Each character has its own strengths and weaknesses so it's really important to experiment with all the characters to find the one that suits you best. I'm more power-based so I chose one of the heavier characters.  Each match is a best two out of three and is set to a certain number of points or a time limit.  Besides the 10 playable characters, there are multiple stages each that have their own gimmick. My personal favorite is a casino stage that does a roulette before each serves to change the points that can be acquired during that round. 
Windjammers 2 is just oozing with style. It has beautiful hand-drawn graphics and animation. Each character is unique in their style and radiates 90s energy. In my opinion, the hand-drawn style of Windjammers 2 is rivaled by no other game other than Wario Land Shake It. The music is tight and engaging and is probably one of my favorite soundtracks that I've heard in a while. Once I see a vinyl or CD release of the Windjammers 2 soundtrack I will definitely pick that up. I am actually listening to the original's soundtrack as I write this review.
 It did take me a little bit to fully understand the mechanics of Windjammers. It is a very easy game to pick up and play for those that don't necessarily care about skill. The controls are very tight and responsive, something that I would expect out of an arcade title such as this. There are a lot of options for the player.  The only complaint that I really have with Windjammers 2 is that there's just not a whole lot outside of the main arcade gameplay.  I really wish that there was a training mode for me to truly practice before going online or even attempting the single-player mode. This omission is one of drawbacks of trying to adhere too close to the original game. During my time reviewing the game I was unable to check out the online play. However I will update my review once I get a chance to play it on its full release.
Windjammers 2 is clearly made with a lot of love for the original Windjammers and you can tell this just by playing it a couple of times. Through its tight controls, wonderful character designs and music, the spirit of the arcade scene in the 90s is fully alive with this title. I highly recommend Windjammers 2 to anybody who is a fan of arcade gameplay.  At the time of publication of this review Windjammers 2 is more than likely already released and will be available on most major platforms.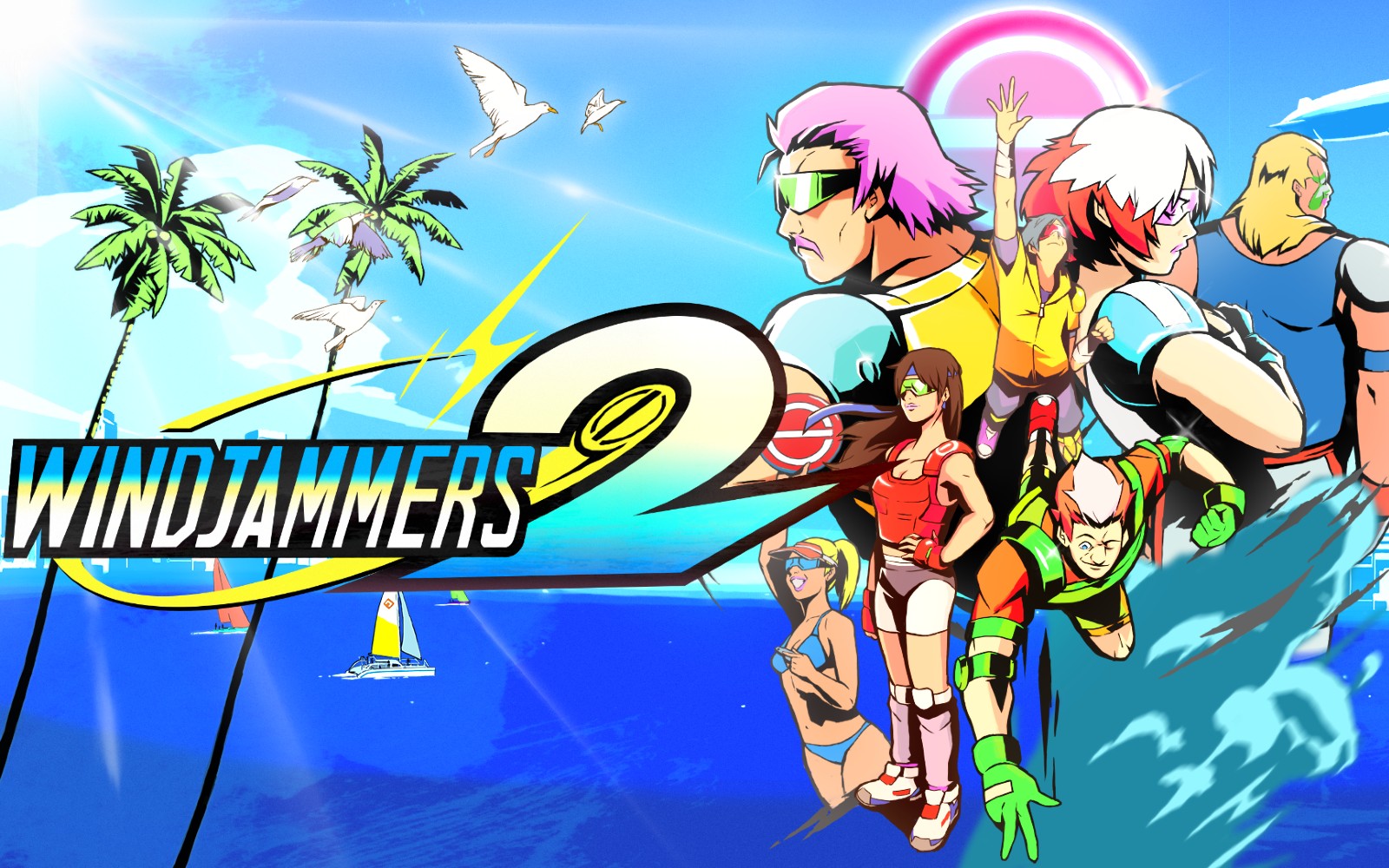 Windjammers 2 Review
The spirit of the arcade scene in the 90s is fully alive with this title. I highly recommend Windjammers 2 to anybody who is a fan of arcade gameplay.
Pros
Addicting and simple gameplay
Unique visuals and characters
Each character plays different