Aniplex kicked off its Fate/Grand Order U.S.A. Tour 2019 on February 23, 2019 at the California Market Center in Los Angeles, CA.  The two day event included attractions such as VR & AR experiences, the Fate/Grand Order Monument, Noble Phantasm exhibits, a message wall, the Fate/Grand Order Duel Play Zone, a souvenir photo generator, and a Challenge Quest Battle Zone. Attendees were allowed to touch and interact with the amazing props such as the Golden Bear motorcycle and highly detailed weapon replicas. There was also an impressive number of cosplayers representing the many Fate series. 
Notable guests included Yosuke Shiokawa (Creative Producer of FGO PROJECT) and Satoshi Tsuruoka (voice of Arash, Gilles de Rais,  Caligula, and Spartacus). CFG had the pleasure of interviewing Tsuroka-san during the opening night event.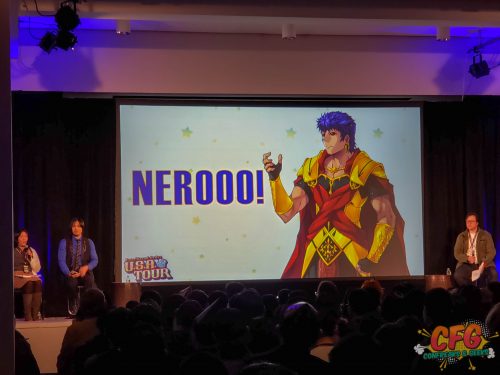 How'd you get involved with the Fate GO project?
I started in the Fate franchise with Zero. I started in a genre much called sound drama. The next thing I know it's been 10 years since I been involved with Fate. Right now Fate / Stay Night is what the newest series and the movie that was released. This is quite the enduring franchise and with quite the history.
Did you ever imagine that it would be such a big international hit?
No, no, of course not. Nobody did.
Do you have a favorite scene that you performed in?
So in Fate Zero I played Gilles where every scene was very impressionable and left a lasting impression with me afterwards. Afterwards there was Fate / Apocrypha in which I played Spartacus. Being able to play those two roles definitely what made me happy.
How did you prepare yourself for these extremely different roles ?
So other than the role of Arash everybody that I've played are actual historical figures. In order to prepare myself, I read up on them a lot extensively in books and on websites. I just wanted to make sure that I had a good foundation of historical knowledge of each of these characters that I played.

Arash is a character that not most Japanese people typically know, but in East Asia and other parts of Asia, he's very popular and famous. So embarrassingly enough, I learned later that he's actually very famous. So that's what I learned that about Arash.
Of all the characters you've voiced, is there one you relate to the most?
So with Arash, even though everybody around him treats him or interacts with him as this great big hero, he doesn't really see himself that way. He's pretty casual. Like, we'll hang out or no worries, no problem. He's a very down to earth kind of character. All the other heroic spirits in the Fate series are very self aware that they did certain things in the past and that they're great. Arash doesn't act that way and isn't self aware, so that's what really draws me to him.
What inspired you to become a voice actor?
I saw this movie called Char's Counterattack in the Gundam series. I was very moved by the movie. That's when I thought, that's when I knew that I wanted to become a voice actor. My dream was to become an actor and work together with the voice actor who played Char.*


*Shūichi Ikeda*
Did you get a chance to?
In my very first role as a voice actor in Rurouni Kenshin!
Check out photos from the opening night below!
The Fate/Grand Order U.S.A. Tour 2019 will head to Anime Central (Rosemont, IL), Anime Expo (Los Angeles, CA), and Anime Weekend Atlanta (Atlanta, GA) before making its final stop at Anime NYC (New York, NY) in November.