Art By: Djibril Morissett-Phan
Colors: K. Michael Russell
Published By: Image Comics
Ever since Jim Zub branched off and made his first created series Wayward, he has been on fire. Now, Zub's latest series, Glitterbomb, holds no exceptions to how talented he is as a writer. Glitterbomb transports the reader to the ugly side of Hollywood where aspiring actors/actresses have to deal with cattle calls, low paying gigs, and fight their way to become famous. That is where we meet Farrah, a has been actress auditioning for a new part that her agent booked. Farrah is a middle aged ("Old" in Hollywood standards) actress trying to find work. After her latest failure, she gets into a depression and starts contemplating suicide. This would normally be the end of her story right? It would be if she didn't get possessed by a man eating monster obsessed with finding more "meat".
The structure in Glitterbomb #1 is well done. The issue is basically the origin of how Farrah gets possessed by a monster but, the way its presented to the reader is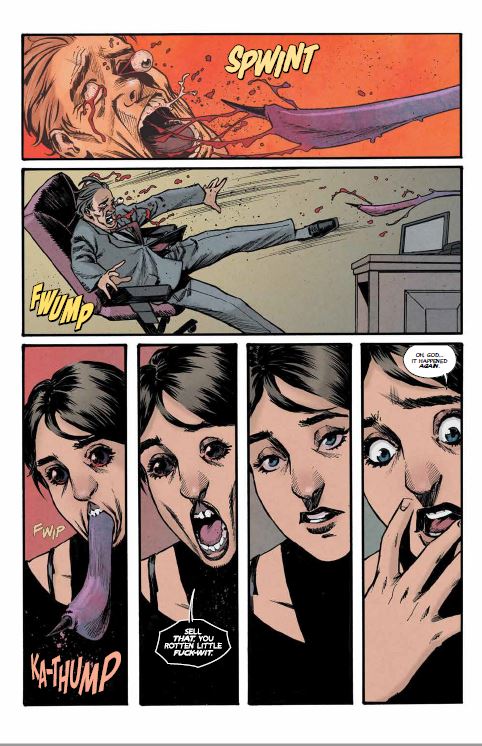 perfect. The book starts off at end of the story and then, flashbacks several hours before that time explaining what happened. Its a common way of story telling I know but, when used right, it makes a story even better. Glitterbomb #1 does however have a weak cliffhanger since the story pretty much explains what the setting will be like throughout the series. That is not a bad thing at all. Knowing Zub, I am sure he will be throwing some curve balls in the future!  
Artist Djibril Morissett-Phan is fairly new in the comic book world but with the art that he created in Glitterbomb, we will see a lot more of him in the future. The setting in the book he and colorist K. Michael Russell created perfect. You can tell the moods of the story without even reading a sentence. From Depression to rage, Morissett-Phan does the job perfectly. Personally, my favorite part of story is where Farrah is possessed by the monster. The black aura surrounding her looks amazing. 
Overall, Glitterbomb is great and this is a must have. I cannot wait to see what is in store of Farrah. All I know, she will be bringing the pain.